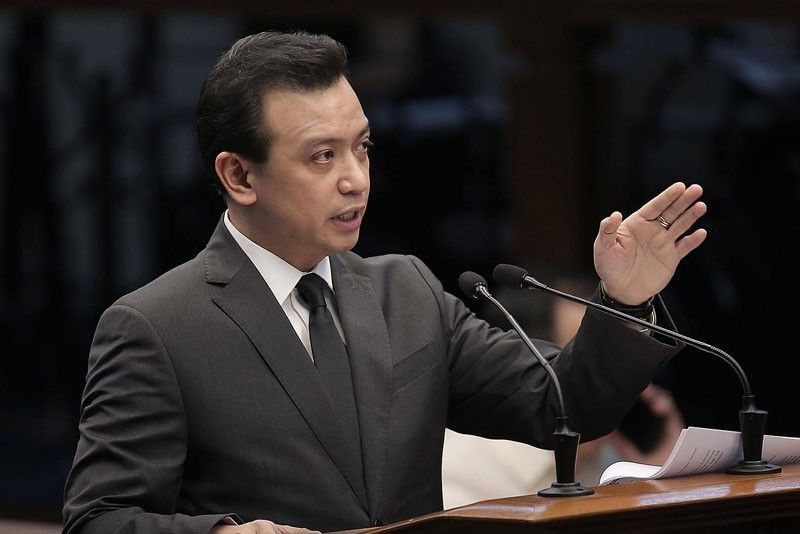 Testing the limits, albeit dangerously
COMMONSENSE
-
Marichu A. Villanueva
(The Philippine Star) - September 7, 2018 - 12:00am
What could be the anti-climax in the second and last term of Senator Antonio Trillanes IV might be a big boost to the senatorial bid of fellow erstwhile Oakwood mutineer-turned-politician, Magdalo party-list Representative Gary Alejano. Now on his second out of three terms allowed by law for a congressional office, Alejano is supposed to be formally proclaimed tomorrow as the lone Senatorial candidate of the Magdalo.
In coalition with the Liberal Party (LP), Akbayan and other like-minded groups identified with the so-called "yellow" opposition ranks, the Magdalo will officially field Alejano as senatorial bet in the May 2019 mid-term elections. Attending our Kapihan sa Manila Bay at Cafe Adriatico in Remedios Circle in Malate, Alejano confirmed the cancellation for now of his senatorial proclamation as originally scheduled tomorrow (Saturday).
But the Magdalo decided to move it to a later date in the aftermath of the withdrawal of amnesty grant to Trillanes by virtue of Proclamation 572 issued by President Rodrigo Duterte against his bitter critic and political foe. Alejano fears he might become the next target and his amnesty grant nullified.
A few months into office after he won in the May 2010 elections, ex-president Benigno "P-Noy" Aquino III granted amnesty to 32 Magdalo junior officers led by Trillanes, Alejano, and the rest of 300 or so mutineers.
While going through the court martial proceedings of the Armed Forces of the Philippines (AFP) for their coup d' etat, the amnesty grant came while they were also undergoing trial in separate civilian courts for rebellion and other violations of the Revised Penal Code.
Their case stemmed from the takeover by force of the former Oakwood Hotel in Glorietta in Makati City supposedly in protest of alleged massive corruption of the administration headed by former president Gloria Macapagal-Arroyo in 2003. Or, this was barely two years after the so-called EDSA-2 power grab in January 2001 when then vice president Arroyo was installed to replace former president Joseph Estrada. Thus, a number of ex-Estrada administration members were among those charged with rebellion cases together with the Oakwood mutineers who were suspected to have been financed by the deposed president.
Trillanes, Alejano et.al. were also co-accused in the coup d' etat case filed before the Makati Regional Trial Court in connection with the Manila Peninsula takeover also in Makati City in 2007. The charges in the Pen siege have since been dropped as a result of the amnesty.
But even under military detention in Camp Aguinaldo in Quezon City, Trillanes run and won a Senate seat during the May 2007 elections under the opposition ticket backed by Estrada's Pwersa ng Masang Pilipino. Although still under military detention, he won his re-election bid at the Senate during the May 2013 elections, this time under the senatorial ticket of then incumbent Aquino administration.
It was a motu propio amnesty grant by P-Noy to Oakwood mutineers who included Trillanes and Alejano and concurred in by then administration-controlled Congress.
The amnesty grant to the Magdalo mutineers was not a product of any peace talks settlement with the rebel soldiers.
Thus, the amnesty grant was nothing but a political arrangement reached by the former Aquino administration with the Magdalo mutineers led by Trillanes.
Trillanes, who has placed himself under Senate custody in the absence of a court-issued warrant of arrest against him, submitted to the Supreme Court yesterday proofs to prove that his amnesty grant by the Aquino administration was validly issued.
During our weekly Kapihan sa Manila Bay last Wednesday, Alejano echoed concerns that such withdrawal of the amnesty grant to Trillanes might set a wrong signal. He particularly pointed to the amnesty earlier granted to various rebel groups produced out of the peace negotiations entered into by the previous administrations.
Although the withdrawal of amnesty was specific to the case of Trillanes, Alejano cited, President Duterte could have avoided the resulting tension and rumblings it has created among their erstwhile fellow men in uniform still in the active service.
According to Alejano, the former Davao City Mayor should have instead picked up the standing challenge of Trillanes to sign a waiver that would allow public scrutiny of the President's bank accounts. In a privilege speech at the Senate in October last year, Trillanes repeated his allegations that President Duterte and his family purportedly have more than P2 billion worth of questionable transactions in their bank accounts. If he is proven wrong, Trillanes offered to resign immediately as Senator.
Taking note Trillanes and him have barely nine months left of their respective terms in Congress, Alejano pointed out, President Duterte could have picked a faster route to remove Trillanes from office by signing a waiver.
That is, if the Chief Executive does not really have such huge amount of unexplained wealth stashed in secret bank accounts.
The tough-talking President Duterte certainly won't take the bait and will ignore Trillanes. Instead, he repeatedly dared disgruntled officers and soldiers to set up a military junta if they find him unfit to govern as President and as their Commander-in-chief.
Alejano warned President's revocation of the amnesty granted to Trillanes without basis and making such military junta dare are treading already on dangerous grounds. He, however, believes the professionalism of men in uniform to remain faithful to their role as protector of the people as mandated in the country's 1987 Constitution.
As a fiscal for so many years, President Duterte surely knows the limits of the country's laws and his powers under the Constitution. Knowing his predilection to rattle the cage, so to speak, this maybe all part of President Duterte's end-game on what he could do and get away with.
But testing them to the limits, albeit dangerously, has its blowback.