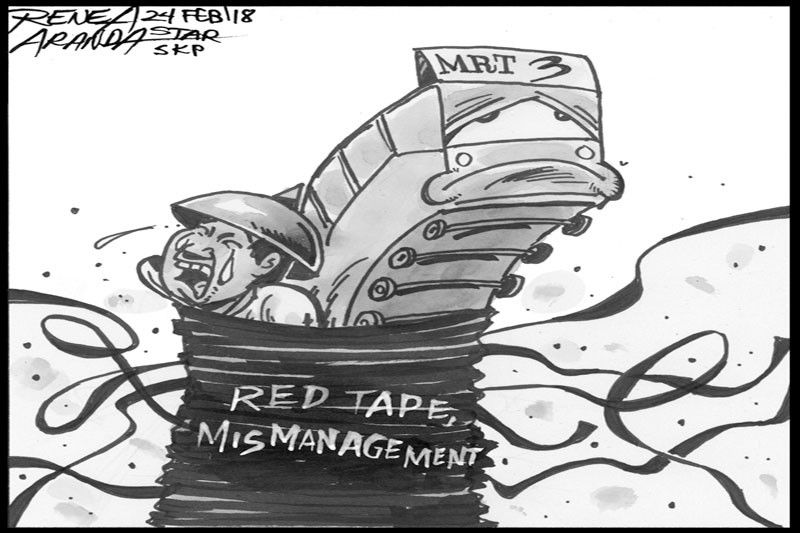 (The Philippine Star) - February 24, 2018 - 12:00am
If it's not the engine breaking down or a train decoupling, it's a power outage, motor failure or defective signaling and even a seat catching fire. The day the Metro Rail Transit 3 does not have a single malfunction, it will be a big story. At the start of the week, commuters had to wait two hours for the MRT 3 service to start, because of power outages in the system. When the service finally started, only partial operation was possible.
People take the light rail trains because the fare is affordable, the schedules are predictable, and best of all, there are no traffic jams. The waiting lines for rides and tickets, however, have become as appalling as the traffic gridlocks on EDSA. Images of stranded commuters walking along the MRT 3 tracks are also becoming depressingly common. The crooks responsible for this national embarrassment must be sent to prison pronto, but the criminal cases against them are crawling along as slowly as Metro Manila's traffic.
The atrocious light railway and commuter train services are in fact aggravating the horrid traffic gridlocks in Metro Manila. The acute inefficiency and inadequacy of the mass transportation system is the biggest reason why people can't leave their cars at home.
Back in 2012, the Japan International Cooperation Agency declared after a thorough study that traffic jams were costing the Philippine economy about P3.5 billion every day in terms of lost productivity, fuel costs and other factors. Over a year, the amount could account for 0.8 percent of gross domestic product, Economic Planning Secretary Arsenio Balisacan said the other day.
Transportation projects are among the priorities in the ambitious "Build, Build, Build" infrastructure program of the Duterte administration. JICA is financing several of the major projects including a subway for Metro Manila and the railways that will run from Clark International Airport through Bulacan, Metro Manila, the NAIA and all the way to Laguna.
Because of the critical state of mass transportation, these projects must not be derailed by red tape, bureaucratic inefficiency, and the corruption scandals and consequent litigation that typically accompany big-ticket government projects in this country. The MRT 3, which is crying out for urgent attention, is an unfortunate example of the consequences of corruption and mismanagement in mass transportation facilities.