EDITORIAL - Reason to hope
January 1, 2018 | 12:00am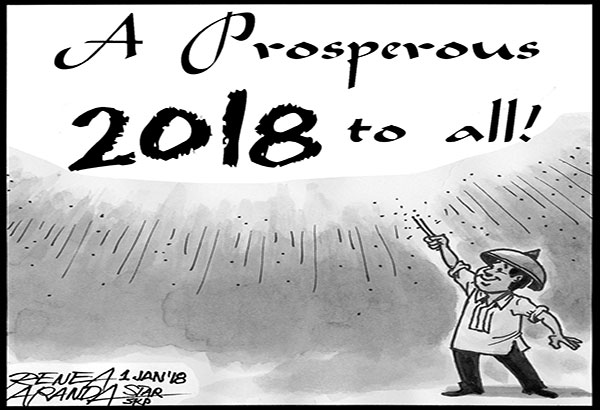 As in previous years, Filipinos are greeting the new year with high hopes.
Since the Social Weather Stations Inc. began polling hopefulness on the eve of a new year, the number has always been in the 90s. The latest survey has been no different, with 96 percent greeting 2018 with hope rather than fear, according to the SWS poll taken nationwide from Dec. 8 to 16.
The SWS described it as an all-time high since the pollster first asked the question in 2000, although it was just a notch above the previous high of 95 percent, recorded in 2002, 2011 and 2016. Filipinos are generally optimistic and resilient amid adversity, managing to be cheerful even when surrounded by death and destruction. And optimism is heightened in the changing of the year.
People will need a lot of optimism and resilience in facing the challenges of the year ahead. The tax reform package, although cutting income taxes, is expected to trigger inflation as hefty excise taxes are slapped on petroleum products including diesel, the fuel of most public utility vehicles, and cooking gas.
In Metro Manila, authorities have warned of worse traffic until the end of President Duterte's term as vital public works projects get underway, with little hope in sight for an improvement in the light railway services.
Economic figures were rosy in 2017, but the main challenge remains: making the benefits of growth trickle down to the grassroots. Inclusive growth is impossible in a nation where many laws and rules are designed to give enormous advantage to a miniscule fraction of the population. But reforms are always possible to make growth equitable.
With sustained growth and strong macroeconomic fundamentals, life could be better in the coming year, especially if combined with good governance. Even in times of misfortune, Filipinos live with the certainty that the darkest night always gives way to light. The best government works to give the public reason to be hopeful that things will be better.
May you all enjoy the blessings of the New Year!