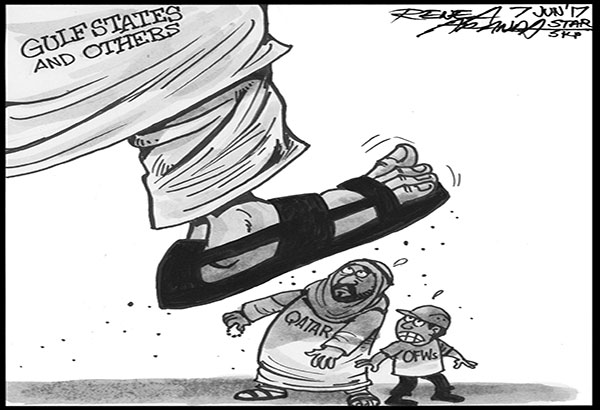 EDITORIAL - Migrant Workers' Day
(The Philippine Star) - June 6, 2017 - 4:00pm
The nation marks Filipino Migrant Workers' Day today as 250,000 Filipinos scramble to stock up on supplies in Qatar. Six Arab states plus the Muslim-majority Maldives simultaneously announced the other day that they were cutting diplomatic ties with Qatar for supporting Islamist terrorist groups in their countries.
Qatar officials said the move, which includes a food blockade and a stop to flights to and from the seven states, was unwarranted. Oman and Kuwait, which have not followed the lead of Saudi Arabia, the United Arab Emirates, Bahrain, Egypt, Yemen and Libya, are reportedly trying to mediate, but the regional crisis is unprecedented. It could last long enough to imperil not just the supply of supermarket commodities in Qatar but also the viability of businesses and jobs in that country.
With only about 300,000 citizens, Qatar is heavily dependent on migrant workers. The wealthy nation, which hosts a forward base of the US Central Command for counterterrorism operations in the region, is a top destination for overseas Filipino workers.
OFW jobs in the region have been threatened for some time by the softening of world oil prices, and the crisis involving Qatar could aggravate the situation. Philippine authorities must be prepared for contingencies in assisting OFWs who might be displaced by the crisis.
Filipino workers have shown resilience in the face of previous downturns in the global economy, accepting lower-paying jobs when they lose their regular employment overseas. While this ensures sustained earnings, it also opens migrant workers to abuse and exploitation.
The crisis in the Persian Gulf should spur the Duterte administration to work harder for the long-term goal of creating meaningful jobs in the Philippines. While OFW remittances have contributed substantially to Philippine economic growth, the best gift to migrant workers is the creation of an environment where they need not leave their loved ones behind in their homeland to find decent employment.