Illegal drugs: Is tougher enforcement the best solution?
In April of last year, convicted drug trafficker Mary Jane Veloso's imminent execution in Indonesia sparked public outcry in the Philippines with appeals for mercy and justice. In the year following her temporary reprieve—granted in light of new developments that could mitigate, if not prove, Veloso's innocence—Davao City Mayor Rodrigo Duterte has taken his place as our presumptive president-elect, a victory largely attributed to his hardline stance on many issues that notably include drug-related crime.
Fighting illegal drugs, alongside tackling poverty, is the centerpiece of Duterte's platform. Asserting that he will see capital punishment reintroduced for a wide range of crimes, he vows to elevate drug abuse to a "national security issue" by mounting a relentless crackdown on syndicates and users, and demolishing illicit laboratories using elite security forces.
How serious is the drug problem in the Philippines? According to the Dangerous Drugs Board's 2012 National Household Survey, there were around 1.3 million drug users in the country, which translates to about 1 percent of the population. In 2015, the Philippine Drug Enforcement Agency (PDEA) reported that a fifth—or 8,629 out of the country's 42,065 barangays—were "drug affected," determined by the presence of at least one user, pusher, manufacturer, or other drug personality in the area. In Metro Manila, 92 percent of its barangays have some sort of drug-related problem, though it remains difficult to determine how serious these actually are. Based on PDEA's 2014 arrest data, methamphetamine hydrochloride or shabu—reportedly used by blue-collar workers like bus drivers to keep themselves awake—tops the list of most abused illegal drugs, followed by marijuana and costly party drugs like cocaine and ecstasy.
In light of this, Duterte's strategy will stress enforcement and prosecution, beefing up the police to reduce both demand and supply, according to incoming Solicitor General Jose Calida. He intends to recruit and arm militiamen at the barangay level—where he says drugs have proliferated due to local officials' inability to suppress them—to do their own policing.
Sources close to Duterte also told the Philippine Star that he will have drug traffickers and other hardened criminals incarcerated in a maximum security, Alcatraz-type prison, pending the re-imposition of the death penalty.
To effectively root out supply, Duterte will have to take on three major drug trafficking parties present in the country: the Filipino-Chinese drug syndicates, involved in bulk smuggling and manufacturing of illegal drugs and establishing clandestine laboratories and chemical warehouses; the African drug syndicates, which use couriers (usually women) to smuggle illegal drugs into and outside of the country; and the Mexican Sinaloa drug cartel, which has been linked to Filipino-Chinese distributors who have their own labs. There are also the suppliers of raw chemicals used to make shabu.
It is fair to ask if Duterte's hard-line measures against drug dealers will work. It helps to look at other countries' attempts to address their illegal drug situations. On the one hand, some impose an iron-fisted approach, introducing punitive sentences for traffickers and users; on the other, some see drug abuse as a disease linked with other problems like poverty, education, health and unemploment, and treat it as a public health issue rather than a crime.
Take for example, Mexico's war on drugs. Led by former president Felipe Calderón in 2006, its main elements were formulated by the United States. Taking literally the metaphor of the "war on drugs," Calderon set forth thousands of soldiers to fight the drug cartels. Despite a series of high-profile battles against drug cartels, Mexico has come no closer to winning the war. On the contrary, fractured syndicates simply gave way to more violent and predatory gangs whose struggle for control of the drug trade—and political influence—has led to public displays of violence involving other cartels, security forces, local officials, and numerous innocent civilians. The homicide rate during Calderón's term—previously in steady decline—nearly tripled, with drug-related deaths numbering in the tens of thousands. Neither can we disregard reports of Mexican security forces' own instances of torture, "enforced disappearances," and extrajudicial killings. Though the exact amount of drug revenue funneled from the US to Mexico is impossible to measure, some estimates run up to $30 billion annually. Ultimately, Mexico's war has only exacerbated an environment already rife with strife and terror—an outcome mimicked in other Latin American nations tied into the US drug crackdown.
By contrast, Portugal is among countries pursuing far more liberal drug policies. After years of responding to worsening substance abuse problems with police repression, Portugal radically changed course in 2001. It became the first European country to completely decriminalize low-level possession and use of all illicit drugs, moving drug control responsibility from the Justice Department to the Ministry of Health. An individual found with less than ten days' supply of anything from marijuana to heroin is sent to the Commission for the Dissuasion of Drug Addiction, which then recommends voluntary treatment, a minor fine, or in some cases, no sanction at all.
The results are in stark contrast to Mexico's. According to a Drug Policy Alliance 2015 report, the number of those seeking treatment in Portugal has more than doubled (impressive considering it is non-compulsory). In addition, the number of HIV cases among drug users has significantly declined, from 1,575 in 2000 to 78 in 2013. Adolescent drug use has decreased. There has been a drop in the percentage of people imprisoned for drug law violations, from 44 percent in 1999 to 24 percent in 2013. Finally, the quantity of drugs seized slightly increased, possibly because resources were freed up to run after big-time operators rather than impoverished users.
According to the European Monitoring Centre for Drugs and Drug Addiction, the number of drug-related deaths in Portugal has fallen as well—only three in every one million deaths result from overdose, as compared to the EU average of 17.3 per million.
The US itself has spent $1 trillion on the war on drugs launched by President Richard Nixon in 1971. Yet, with 27 million users, it remains the world's top consumer of illicit drugs. Claiming that "for too long we have viewed the problem of drug abuse?...?through the lens of the criminal justice system," the Obama administration focuses its policies in between what it views as the two extremes of war and legalization. Current drug policies now focus on prevention and early-detection programs, while expanding access to treatment under Obamacare, which requires insurance companies to cover addiction treatment. It has also taken a "smart on crime" approach to enforcement that opts for treatment instead of prison, scaling back harsh drug sentences, and the creation of re-entry programs that remove the stigma and regulatory barriers faced by former offenders.
In the Philippines, the Aquino administration's view on drug abuse was more holistic. The National Anti-Drug Plan of Action (NADPA) 2015 to 2020 asserts that the drug problem is not only an issue of security or public health, but one that encompasses "social, economic, psychological, and economic interests." Thus, aside from accosting traffickers and drug couriers, dismantling clandestine laboratories, and destroying illegal drug plantations, the government embarked on public and youth awareness campaigns like the Barkada Kontra Droga program, and institutionalized management and assessment of overall drug demand and supply reduction through the Integrated Drug Abuse Data and Information Network, an online data pooling and collection system.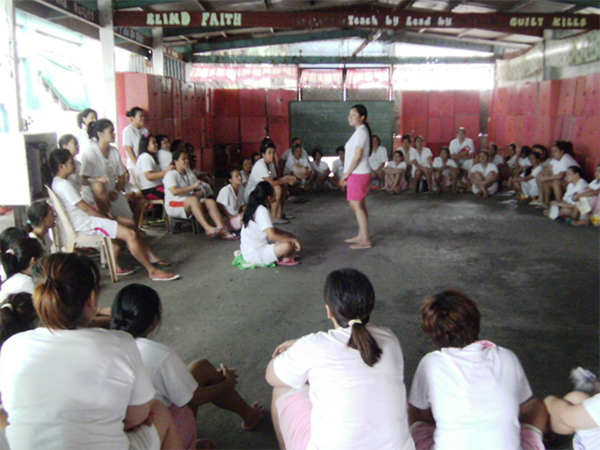 Drug-dependent women undergo learning sessions at the Department of Health's Bahay Bagong Buhay Rehabilitation Center in Taguig City. DOH-TRC Bicutan
For rehabilitation efforts, the Department of Health (DOH) and some Local Government Units (LGUs) maintain 12 treatment and rehabilitation centers. These provide residential and outpatient drug treatment and rehabilitation, individual and group counseling, psychotherapy and psychological testing, drug dependency examination and certification, drug testing, outreach programs like drug awareness seminars, family intervention programs, and medical and dental services. For instance, the Davao City Treatment and Rehabilitation Center for Drug Dependents is seeing success with its 100 patients of mostly poor shabu and marijuana users, Rappler recently reported. Run by the Department of Social Welfare and Development until it was turned over to Davao City in 2001, the center covers all the costs—P17,000 to P20,000 per patient per month—and conducts "aftercare" and follow-ups to check on every released patient.
However, NADPA pointed out that admissions in these and other rehabilitation facilities are decreasing. From 5,965 in 2002, the number decreased to 2,744 in 2012, attributed to drug users' families' financial limitations and denial about their loved ones' drug-dependence—the social stigma it entails not only for the drug users but for the families themselves. All these factors tend to dissuade people from seeking treatment.
Looking at the existing case studies in Mexico, Portugal and the US, and in light of the PNoy administrations' own efforts, might give the Duterte administration some pause. Rather than meting out death sentences, Duterte's administration might want to consider treating the drug problem as a public health issue. Attempts at waging a "war on drugs" have repeatedly failed around the world and the militarization of anti-drug efforts can only result in the escalation of violence. For our own history, we have seen how the use of armed militias has been problematic. Many of them end up behaving with impunity, turning to extortion or degenerating into private armies. Capital punishment not only erases opportunities for reform but—returning to the case of Veloso—can easily implicate the innocent, especially if they are poor. Targeting individual drug dealers and users—even those engaged in small-time dealing to provide their personal supplies—may bring about short-term relief, but will not be able to address larger structural conditions that encourage illegal drug consumption and trafficking in the first place.
A longer-term but perhaps more effective approach would be to build on existing mechanisms for addiction prevention and treatment, partly by augmenting the budget of the treatment and rehabilitation centers of the DOH and LGUs to increase program accessibility. Likewise, Duterte—rather than mimicking foreign wars on drugs—could make strides toward reducing the marginalization and stigmatization of users and small-time pushers, fostering instead an environment that encourages them to seek treatment and to forego involvement in illicit drugs.
Simply put, the drug problem is not one that a government can arrest or kill its way out of, however populist such a stance might be. It is unlikely that the dehumanizing effects of drug addiction will be solved by strategies that are themselves deeply dehumanizing and ultimately illiberal. After all, drug dependents don't lose their rights, especially if they are "dual diagnosed"—being saddled with substance addiction at the same time that they suffer from mental illness. As one Portuguese physician told The New Yorker in an evaluation of Portugal's drug policy, "I prefer moderate hope and some likelihood of success to the dream of perfection and the promise of failure."