Jennifer Laude and the ugly face of hate crime
The recent conviction of US Marine Joseph Pemberton for the homicide of Jennifer Laude, an Olongapo City transgender woman, has set off a number of political firestorms. Predictably, militant nationalists have had much to say, as have various LGBT advocate groups. The case has even set off discussion among some international development and human rights agencies about how gender equality is to be measured. As always in burning public issues, sorting the heat from the light has been difficult.
To begin with, it is extremely difficult to distinguish between sex and gender. According to the World Health Organization, sex refers to biological and physiological characteristics that define men and women; gender refers to socially-constructed roles, behaviors, and activities. Confusion about sex and gender persists even among international agencies. Part of the confusion has to do with the fact that what we think of as "natural"—sex—is also gendered, and therefore made cultural. It is assigned highly contingent meanings relating to masculinity and femininity that these biological differences do not inherently have in all places at all times. Similarly, what we think of as cultural—gender—is highly sexualized and often deemed to be natural, rather than cultural. It is as if sex and gender were always entangled, one inflecting the meaning of the other. Hence, we have transgender and transsexual formations that stretch and recombine the relationship between sexuality and gender, and reveal what is often concealed in our everyday notions of the person: that every person tends toward multiple sexual identifications and plural gender orientations. And it is only the normalizing power of society that represses these tendencies, prescribing that one should be either male or female, straight or gay—insisting, that is, on upholding "or" over "and."
For instance, the World Economic Forum (WEF) Global Gender Gap Index—in which the Philippines ranked ninth out of 142 countries this year—uses the word "gender," but only actually compares male and female. How high would we rate if they surveyed not only both sexes but also gender orientations? We presently have no way of knowing—there is simply no data on the full range of genders.
Returning to the Jennifer Laude case, the hot-button issue has been the decision of Olongapo City Judge Roline Hinez-Jabalde of Regional Trial Court Branch 74 to downgrade Pemberton's charge from murder to homicide due to a "lack of any aggravating circumstance." But LGBT advocates remain quite aggravated indeed. Six to 12 years of imprisonment—the maximum for homicide—is a much lesser punishment than Pemberton would have faced from the original murder charge. Thus, the Laude family and various lesbian, gay, bisexual, transgender, intersex, and queer (LGBTIQ) advocacy groups—while welcoming the conviction—have been disappointed by its final outcome.
??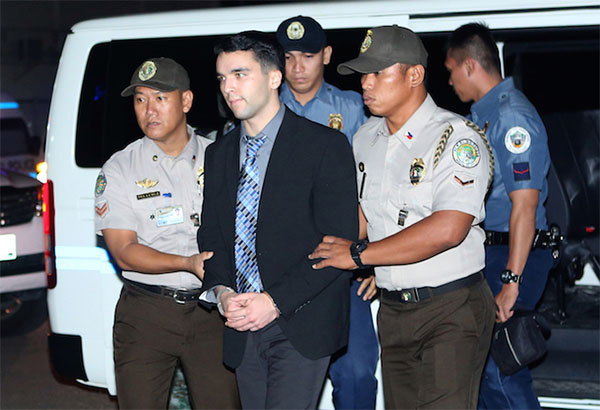 ??
Convicted US Marine Lance Cpl. Joseph Scott Pemberton is escorted to his detention cell upon arrival at Camp Aguinaldo, Tuesday Dec. 1, 2015. AFP
As stated in the court's ruling, Pemberton was the "more plausible suspect because he was the only person who (had) the motive to kill Laude" after "he was deceived by Laude into believing that he was a woman, when in fact he was a man when he offered him sex for pay." […] "Pemberton could have been so excited and sexually aroused and started reaching for Laude's vagina, hoping to consummate the sexual act and satisfy his sexual desire. When he felt something weird which should not have been there, he realized what was on top of him was a man. He was so disgusted and repulsed by what he discovered. He found the situation so revolting and despicable. This overcame his reason and self-control."
In other words, Pemberton was seized by homophobic panic upon grasping, as it were, the "truth" of Laude's sex—one that upended his expectations in one fell swoop. Leaving critique of the legal issues to the numerous experts expressing opinions and nuance, there are still problems with the language and "attitude" of the ruling.
That the court's ruling that Pemberton's loss of "reason and self-control" because he was "disgusted and repulsed" by a situation he found "revolting and despicable" was viewed to be a mitigating factor rather than an aggravating one speaks volumes about Filipino social standards. It sets a tone in our justice system that many have cause to find disappointing. It is reminiscent of the older notion of "crimes of passion" which similarly exculpate the guilty party for reasons of temporary insanity. When applied to husbands discovering their spouses in flagrante delicto with another lover, the husband was deemed justified in killing, as in the famous case of Juan Luna murdering his wife, Paz Pardo de Tavera.
Naomi Fontanos, a transgender woman and a founder/director of Ganda Filipinas promoting transgender rights, expressed dismay on social media, saying genuine justice has eluded Jennifer Laude. "[I am] extremely saddened and disappointed by the court's decision declaring Lance Corporal Joseph Scott Pemberton guilty of homicide and not murder of Jennifer Laude. I am appalled, too, that 'intoxication' was allowed as a mitigating circumstance in his favor," she said, "I also disagree with the court that Pemberton did not use brute force in choking Jennifer Laude and used hermana trans status (her transgender status) as the basis for this reasoning. I'm so sorry, Jennifer, that genuine justice has eluded you," she added.
Former Akbayan Party-list representative Walden Bello said, "The decision on the Jennifer Laude case is an affront to LGBT communities. Indeed, it is an affront to women and all social justice advocates. It is a grave miscarriage of justice. It is another slap on our national sovereignty to please the United States. Joseph Pemberton deserved to be convicted of first degree murder, not homicide. It was murder based on Article 248 (6) of the Revised Penal Code, as the killing was carried out with cruelty. Clearly, such cruelty stemmed from transphobia."
Here we can only speculate that another reason that Pemberton got off on a lighter charge has to do with the Enhanced Defense Cooperation Agreement (EDCA)—and the earlier Visiting Forces Agreement (VFA)--which brings large numbers of visiting US troops to the Philippines. Historically, the presence of such troops has always led to increased human trafficking and crimes related to prostitution. However, given Philippine dependency on the US military, American soldiers guilty of crimes on Philippine soil have often been given preferential treatment, including lighter sentences, serving time in the US, rather than in the Philippines.
Laude family lawyer Atty. Harry Roque said in a media interview that the court ruling sends a wrong and damaging message to the public. "It sends a message to the public that it is okay to commit hate crimes against LGBTs because if you suffer from a mistaken belief that a woman is in fact a man and you kill him, you'll be entitled to a lesser penalty."
Laude's death has also become prominent internationally, reopening discussions of gender discrimination, gender-based violence, and hate-crime among human rights advocates. Jennifer Laude is certainly not the first victim of a so-called "hate crime."
In fact, she is one among hundreds of LGBTIQ persons brutally murdered because of gender. According to Philippine Hate Crime Watch—an organization monitoring Filipino LGBTIQ hate crimes—a total of 156 LGBTIQ persons were killed between 1996 and 2012. The group also asserts that hate crimes are underreported, some cases listed as ordinary murder or homicide; others, not reported to the authorities at all.
What, then, is hate crime? Why and how should it be addressed differently from ordinary killing or assault?
Aside from the brutality of the act, hate crimes have graver impact than ordinary assault or killing, according to Nex Bengson of Akei Philippines—a member organization of the Philippine Hate Crime Watch and an educational action laboratory that researches hate crime. He says that when a hate crime is committed against a member of a minority, the entire community suffers from the crime. In hate crime, he adds, you do not simply kill an individual; you kill an entire community—a community that is often invisible or marginalized.
In 2011, the Commission on Human Rights (CHR) sought to address human rights violations committed against LGBTIQ and to systematically document cases to serve as evidence to push forward the criminalization of hate. Today, the Commission continues to coordinate with the Philippine Hate Crime Watch to track such cases.
However, the CHR struggles to further the investigation of individual cases due to a lack of available information and contact persons, and the refusal of families to cooperate in investigations. Ultimately, of about 100 cases, only six have been verified, investigated and acted upon by the Commission.
But, even given a—hopefully rapid—improvement in data and documentation, the "how" question remains. What would a law protecting the LGBTIQ community and other minorities look like?
Our first impulse is not always the correct one. In the US, a Federal anti-hate crime law exists but is seldom used because "hate" is very hard to prove in court. An actual statement by the accused linking hatred to the criminal act is practically the only acceptable evidence of hatred as a primary motivation. Feelings and emotional states are very hard to prove in a court of law. Physical evidence and witness testimony are what win most convictions—prosecutors thus forego the hate-crime approach in favor of more ordinary criminal charges that are easier to prove.
Of course, speech, defacement, destruction, arson and numerous other crimes can involve the element of hatred against minorities and the disempowered. Perhaps the most useful thing an anti-hate crime law could do would be to make sure that the element of hatred were treated as an aggravating factor rather than a mitigating one in cases of various crimes—up to and including murder.
This view, however, runs contrary to LGBTIQ organizations like Bahaghari and Akei, who vigorously campaign for a hate crime law. They aim for a law that recognizes hate crime as a separate and graver crime than that of murder or homicide, and that "further empowers" the authorities.
??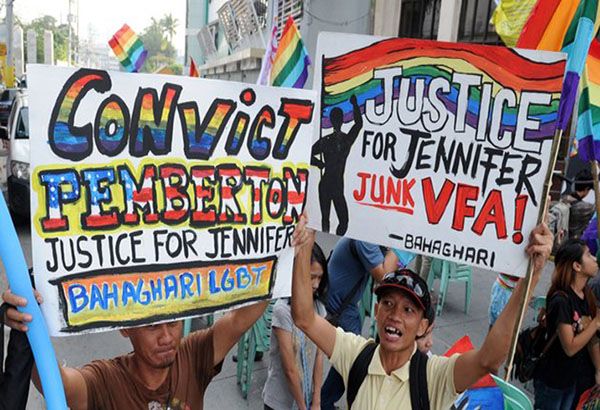 ??
Protesters called for Pemberton's conviction during a rally at the U.S. Embassy in Manila. Getty
In 2014, several representatives took measures to address hate-motivated crimes and violence directed at LGBTIQ communities. The Leftist Makabayan bloc filed a resolution a few weeks after the murder of Laude seeking a Congressional inquiry into reported cases, with the view of crafting landmark legislation against hate crimes—followed by the filing of House Resolution No. 1625 demanding that Congress perform its "constitutional obligation to work towards the achievement of genuine equality and ultimate protection of fundamental rights of all persons against hate-motivated crimes."
With only seven months of the Aquino administration remaining and a Congress that already has one foot on the campaign trail, no law on hate crime has figured among government's priorities. This non-prioritization of hate crime, or even the anti-discrimination law, only reflects the level of importance society grants LGBTIQ persons. But support for the passage of a hate crime law should not simply be construed as the rights claims of a vulnerable community. Instead, it should be seen in terms of the way Philippine society treats its minorities and a measure of how far our democracy has progressed.
Though admittedly dystopic, homophobia--like our stigmatization of mental illness, our religious bias against contraception and so many other social ills--is not going to change overnight. The killing of Jennifer Laude, as well as the language and logic of the court decision in her case, are concrete examples as to why hate crimes should be taken more seriously, and a hate crime law should be seriously—and carefully—considered.