Our Lady of Health arrives at Manila Cathedral
October 2, 2023 | 12:00am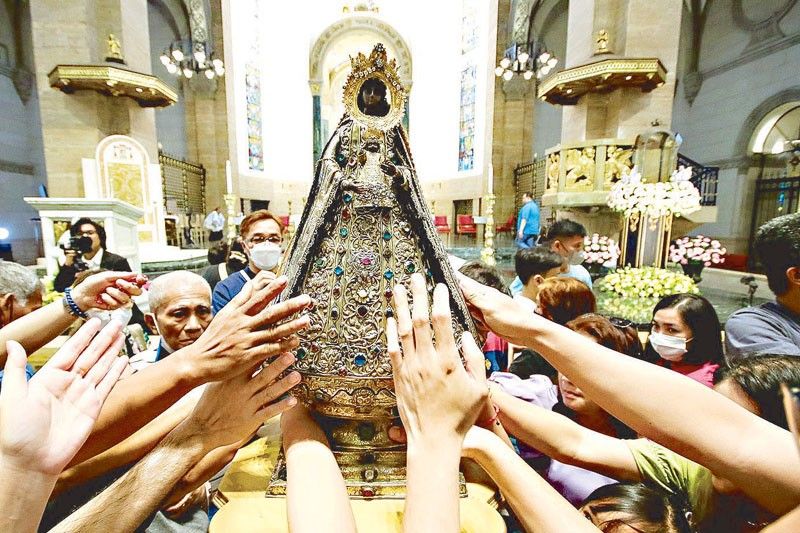 MANILA, Philippines — The centuries-old image of the Nuestra Señora de la Salud (Our Lady of Health), believed to be miraculous, arrived at the Manila Cathedral yesterday.
The image, made of wood and ivory, was open for public veneration, marking the beginning of October as the Month of the Holy Rosary.
The Manila Cathedral in Intramuros would serve as the temporary home of the original 28-inch image of the Nuestra Señora de la Salud until the morning of Oct. 7.
Church officials welcomed the image with a mass presided by Fr. Bernard Amparado, prior provincial of the Augustinian Recollect Province of St. Ezekiel Moreno.
While the image arrived in the country in 1634 or 389 years ago, it was reportedly hidden from public view for 72 years and shown for public veneration in 2017.
The image's return to Intramuros was a homecoming of sorts, according to the cathedral, because when it arrived in the country it was first enshrined at the San Juan Bautista de Bagumbayan Church, a site now occupied by the National Planetarium.
During World War II, the image was moved by the Augustinian Recollects to different churches such as the San Nicolas Church in Intramuros.
Despite the destruction of the Battle of Manila in 1945, the black image was spared and the priests took it to the San Sebastian Basilica in Manila and later turned it over to the museum for safekeeping where it was hidden for 72 years.
The devotion to the image resumed in 2017. Its clothes are adorned with "special" stones, some of which were given by devotees whose prayer requests were granted.
A priest who attended yesterday's event said that during the past five years, many of those whose prayers were answered were women who wanted to have children and persons with heart ailments.