DOJ stops work on new library over remains
November 26, 2022 | 12:00am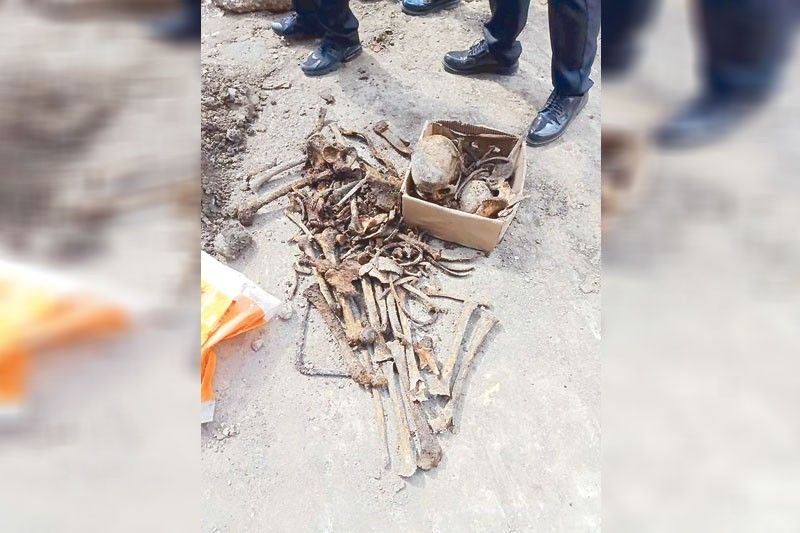 MANILA, Philippines — The Department of Justice (DOJ) yesterday halted the construction of its new library building along Padre Faura street after four skeletal remains were recovered from the site on Thursday afternoon.
Justice Secretary Jesus Crispin Remulla told reporters that they agreed to the recommendations of experts, led by forensic pathologist Dr. Raquel Fortun, to halt the construction pending an investigation of the remains.
Remulla invited Fortun to examine the recovered human remains along with social anthropologist Maria Teresa de Guzman of the University of the Philippines Manila and archeologist Michael Canilao of the Ateneo de Manila University to shed light on the remains' presence in the compound.
"We're looking at this as a probable archeological site. Baka this might be war time … this is what we should do sa lahat ng sites na may historical value, but not many people respect that. We're trying to follow this now," Remulla said.
When asked, Remulla said he could not yet speculate on how long the suspension of construction work would last. He added that they do not see any indication that the site was used as a mass grave.
De Guzman said they have to investigate the "social context" of the land before examining the remains while Canilao will study the "stratigraphy of the soil."
"As of now, we cannot say anything because we need our equipment," De Guzman said.
De Guzman said that there should have been a permit from the National Commission for Culture and the Arts before the excavation was made as she emphasized that there is a possibility that the human remains date back to World War 2 or the Spanish period.
She stressed that human bones were also recovered possibly because the excavation was done near the Pasig River.
"It's hard to say" if the remains are from World War 2 or from the Spanish colonial period, Canilao said.
De Guzman said they intend to return to the area on Monday.
Fortun reminded the DOJ and other agencies to always consult experts first before touching human remains, stressing that the area where the remains were recovered should be treated like a crime scene.
She said this is not the first time that skeletal remains were recovered as she recalled a similar case "a few years back" wherein some military gear was also recovered.
"They are military. I'm sure the United States embassy and the Japanese embassy will be interested," she said.
DOJ spokesman Mico Clavano said the remains were turned over to the National Bureau of Investigation "for any forensics." The NBI is expected to release the results of the investigation early next week.