Ex-German chamber of commerce director gets award
September 29, 2022 | 12:00am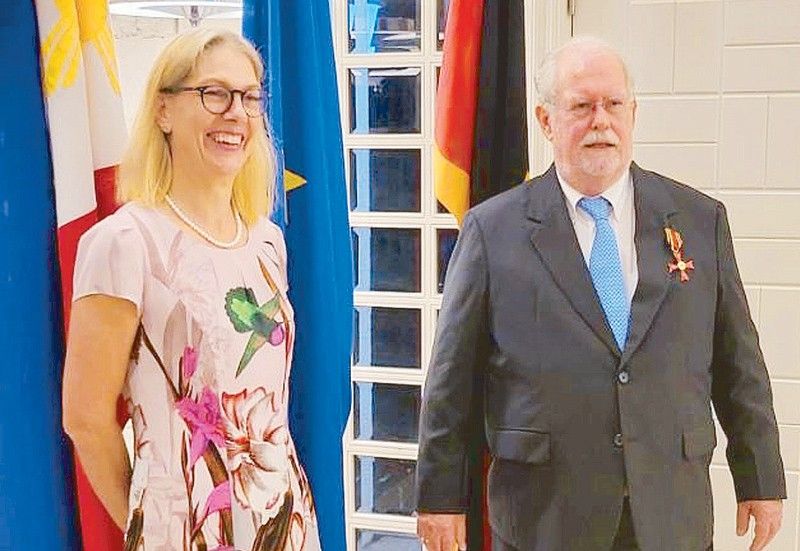 MANILA, Philippines — The former director of the German-Philippine Chamber of Commerce and Industry Inc. (GPCCI) has been conferred the Cross of the Order of Merit by the Federal Republic of Germany.
German Ambassador Anke Reiffenstuel conferred the honor on Dr. Bodo Goerlich on Sept. 27 in a ceremony that was delayed for almost three years due to the COVID-19 pandemic.
Goerlich, who lived and worked in the Philippines for over a decade until his retirement in 2019, was cited for his contributions to German-Philippine relations.
Shortly after assuming the top post in STEAG State Power Inc., a power company that helped stabilize the power supply in Mindanao, Goerlich was named director of GPCCI.
During the awarding rites, he shared some of his fondest memories of his time with GPCCI, including the accreditation of the chamber, facilitating the donation of chainsaws in the aftermath of Super Typhoon Yolanda and arranging the transportation of a piece of the Berlin Wall, which was donated by the German government to the Philippines in 2014 to commemorate the 25th anniversary of the dismantling of the wall that divided East and West Germany during the Cold War.
"Fragment 22" was moved from the National Museum to the Bonifacio Shrine in Manila in October 2020 with then Manila mayor Isko Moreno and Ambassador Reiffenstuel leading the unveiling ceremony.
Asked where he would be displaying his medal, Goerlich said, "I will put it beside my father's."
It's true what they say that der apffel fellt nicht weit vom baum (the apple doesn't fall far from the tree).