2 Mandaluyong pols take oath in quarantine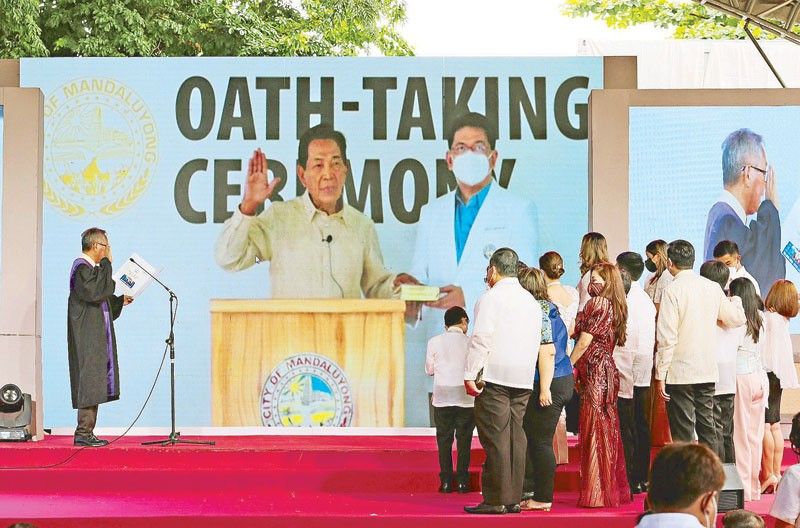 MANILA, Philippines — Two Mandaluyong politicians took their oath of office while in quarantine due to COVID-19 yesterday.
Mayor-elect Benjamin Abalos Sr. took his oath through Zoom while under isolation at his home in Barangay Highway Hills.
Supreme Court Associate Justice Rodil Zalameda administered Abalos' oathtaking in a ceremony at the city hall.
Representative-elect Neptali Gonzales II, who is also under quarantine for COVID-19, took his oath before Court of Appeals Associate Justice Jaime Fortunato Caringal.
Abalos' daughter-in-law Menchie, the outgoing mayor, took her oath as vice mayor before Zalameda.
She was accompanied by her husband, incoming Interior and Local Government Secretary Benhur Abalos.
Dutertes swear in Sandoval, Gatchalian
Meanwhile, the Dutertes administered the oath of office to the newly elected mayors of Malabon and Valenzuela on Tuesday.
Malabon mayor-elect Jeannie Sandoval took her oath before President Duterte at Malacañang.
Among those who witnessed the ceremony was her husband, former Malabon congressman Federico Sandoval II.
Outgoing Valenzuela Mayor Rex Gatchalian was sworn in as District 1 representative by vice president-elect and outgoing Davao City Mayor Sara Duterte.
In her Facebook post, Duterte said it was an honor to administer the oath of Gatchalian, whom she called her "friend" and "the best city mayor in the country today."
Duterte also administered the oath of councilor-elect Marlon Alejandrino.
Sandoval and Gatchalian supported the candidacies of president-elect Ferdinand Marcos Jr. and Duterte.