More cops, soldiers deployed for poll duties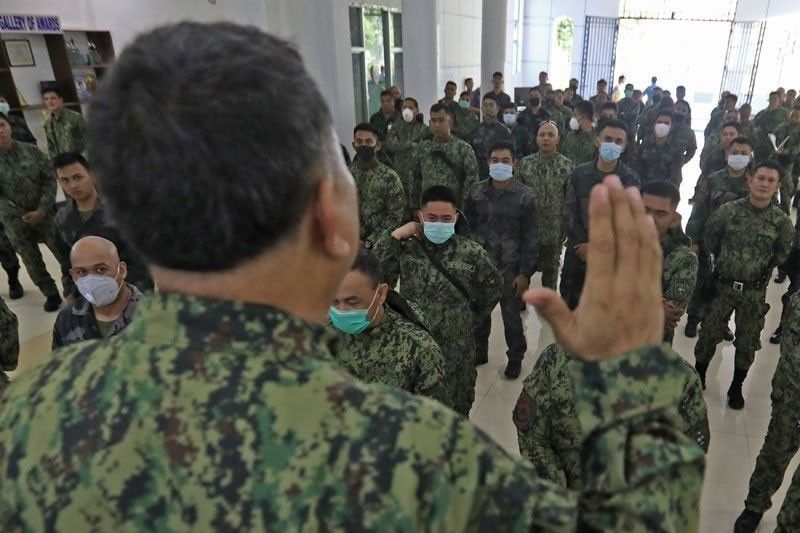 MANILA, Philippines — Over 1,000 police officers in Metro Manila were deployed yesterday to augment the 24,000 personnel tasked to secure the May 9 general elections, the National Capital Region Police Office (NCRPO) said.
NCRPO chief Maj. Gen. Felipe Natividad said police personnel deployed for election duties belong to the Special Action Force, Presidential Security Force Unit, Regional Mobile Force Battalion, Explosives Ordnance Disposal, Regional Highway Patrol and Regional Maritime units.
The Armed Forces of the Philippines (AFP) joined other law enforcement and government agencies in sending off security forces ahead of the elections.
Commission on Elections (Comelec) Chairman Saidamen Pangarungan, Education Secretary Leonor Briones, Philippine National Police chief Gen. Dionardo Carlos, AFP chief Gen. Andres Centino and Philippine Coast Guard (PCG) commandant Admiral Artemio Abu attended the send-off rites at the PNP headquarters at Camp Crame in Quezon City.
The AFP, PNP and PCG were directed to provide security to polling centers, including Comelec personnel, volunteers performing poll-related duties and election paraphernalia.
The Bureau of Fire Protection also deployed more than 2,000 personnel in strategic areas in Metro Manila. The Coast Guard dispatched 262 of its members to help secure the elections.
Comelec National Capital Region assistant director Jovencio Balanguit urged members of the police and military not to engage in partisan political activities.
"Let us be vigilant. Let us make polling centers a secure place for the voters and volunteers," Balanquit said.
Natividad instructed NCRPO operatives to perform their duties to the fullest on May 9.
"The success of the election is not only for us, but for the entire nation. Let us not squander the trust and confidence the public bestowed on us," Natividad said.
The NCRPO earlier said over 4,000 police personnel would be deployed to secure the elections. At least 2,584 officers have undergone training for election duties.
Last week, a total of 1,903 NCRPO members participated in the local absentee voting.
In Manila, more than 12,000 police personnel will be deployed to secure the city during the elections.
The Manila Police District held a "showdown inspection of capabilities" of the personnel to be deployed on May 9, MPD public information chief Maj. Phillip Ines said.
The activity was held at the Quirino Grandstand yesterday. – Michael Punongbayan, Marc Jayson Cayabyab