DOTr: 496 kms of bike lanes completed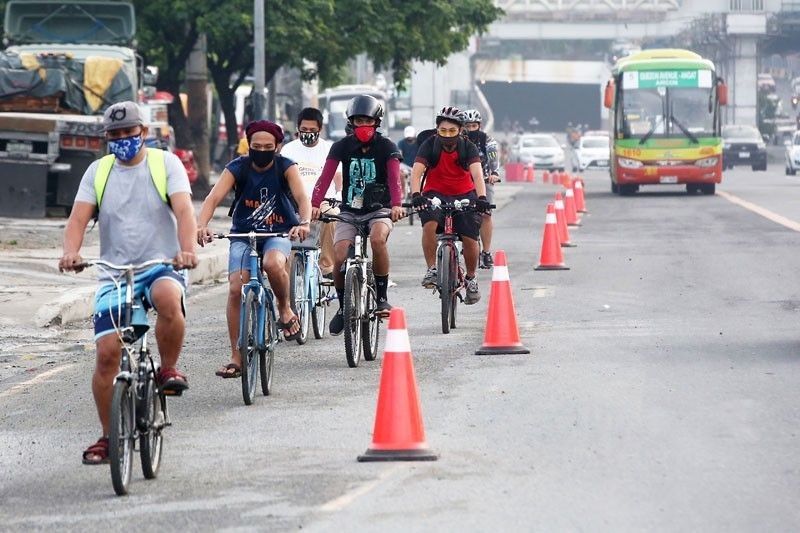 MANILA, Philippines — The Department of Transportation (DOTr) has completed a bike lane network spanning almost 500 kilometers in the National Capital Region, Metro Cebu and Metro Davao.
In a statement yesterday, the DOTr announced that the installation of 497 kilometers of pavement markings, physical separators and road signages in the three metropolitan areas have been finished.
The development of bike lane networks in metropolitan cities aims to increase accessibility to key areas, lessen carbon emission and promote road safety.
A total of 313 kilometers of bike lanes amounting to P801.83 million have been completed in Metro Manila by the DOTr and Department of Public Works and Highways.
In Metro Cebu, 129 kilometers of bike lanes worth P150 million were finished. Another 55 kms amounting to P145.37 million were installed in Metro Davao.
The total disbursement for the three projects amounted to P1.09 billion under the Bayanihan Bike Lane Networks project.
Transportation Secretary Arthur Tugade said the installation of pavement markings, physical separators and road signages was part of efforts to promote active transportation and ensure the safety of pedestrians.
"The DOTr has been implementing projects to fulfill the desire of the public and commuters," Tugade said. "We intend to provide commuters access to faster and efficient means of mass transportation and to open infrastructure for active transportation such as walking and cycling."
The DOTr is eyeing to inaugurate the completed bike lanes in Metro Manila, Metro Cebu and Metro Davao this month.
Under the Bayanihan to Recover as One Act, the promotion of active transportation was strengthened by the declaration of bicycles as additional mode of transport and the provision of funding to support the establishment of bike lane networks.