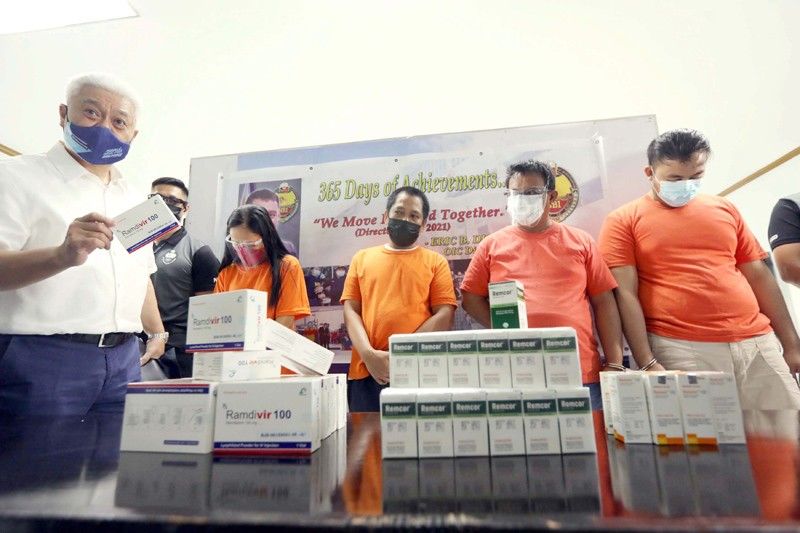 National Bureau of Investigation spokesman Ferdinand Lavin shows boxes of Remdesivir, an antiviral drug used for COVID-19 treatment, confiscated from Bernard Bunyi, Christopher Boydon, Philip Bales and Maria Christina Manaig during a press conference yesterday.
Boy Santos
4 caught with P2 million COVID-19 drug
MANILA, Philippines — Four persons were arrested for the unauthorized and overpriced sale of Remdesivir, an investigational antiviral drug against COVID-19, the National Bureau of Investigation (NBI) reported yesterday.
Maria Christina Manaig, Christopher Boydon, Philip Bales and Bernard Bunyi reportedly yielded P2 million worth of Remdesivir vials.
They were apprehended in separate stings launched by the NBI Special Task Force (STF) in Quezon City on Tuesday.
The suspects allegedly sold Remdesivir vials online for P4,500 to P5,000 each.
The drug has a market value of up to P2,500 only, the NBI said.
According to NBI-STF chief Bernard de la Cruz, only hospitals and doctors may administer Remdesivir upon the issuance of a compassionate special permit.
"We are warning the public against the use and dispensation of the drug," NBI spokesman Ferdinand Lavin said at a press conference.
The NBI said it would also investigate two pharmaceutical companies where the suspects got their supply of Remdesivir.
The suspects are being held on charges of violating the Food and Drug Administration Act and the Pharmacy Law.