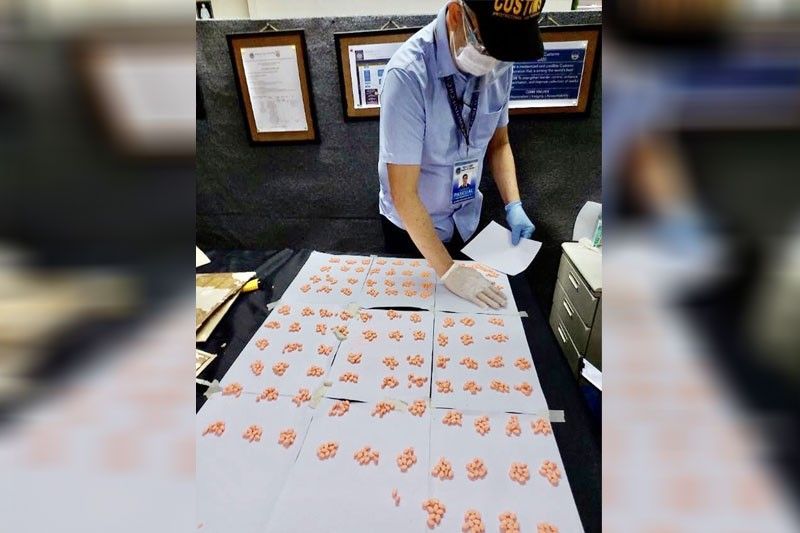 An anti-narcotics operative takes an inventory of some of the 9,243 tablets of ecstasy seized from two persons who claimed three packages from the Netherlands yesterday.
Rudy Santos
2 nabbed over P15.7 million ecstasy tablets
MANILA, Philippines — Anti-narcotics operatives confiscated P15.7 million worth of ecstasy tablets sent from the Netherlands yesterday afternoon.
Rowena Canapit and Michael de Guzman, who presented an authorization letter from consignee Glory Joy Buzeta, were arrested when they claimed three packages containing a total of 9,243 ecstasy tablets from the Quezon City post office, according to the Bureau of Customs (BOC).
The controlled delivery was staged by operatives of the BOC, Philippine Drug Enforcement Agency and the Ninoy Aquino International Airport Inter-Agency Drug Interdiction Task Group after suspicious images were found when the packages passed through an X-ray scanner.
Records show the packages were reportedly shipped by Agner Buzeta and Victor Martis from the Netherlands and were declared to contain "handbags and shoes," "baby clothes" and "clothes."
The tablets were found in a false space or compartment of the packages, the BOC said.
Charges of violating the Comprehensive Dangerous Drugs Act of 2002 and the Customs Modernization and Tariff Act are being prepared against the suspects, the BOC said.