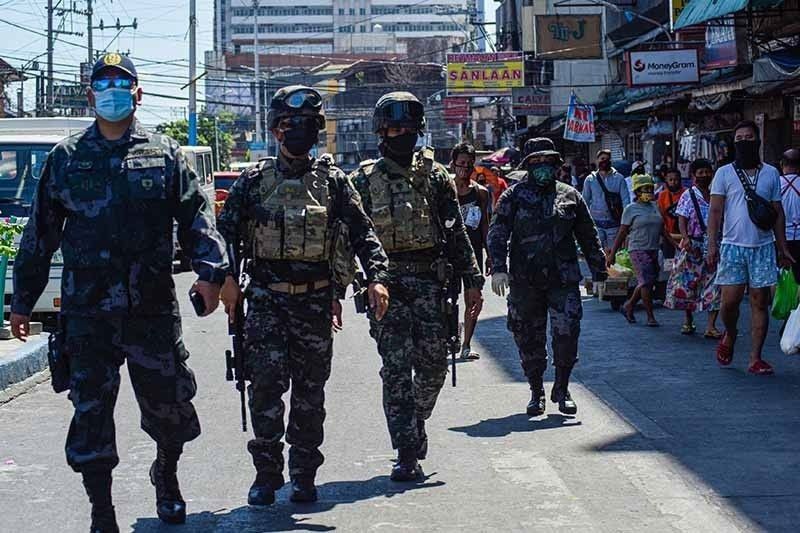 Elite policemen patrol a market while people shop during a government imposed enhanced quarantine as a preventive measure against the COVID-19 novel coronavirus in Manila on April 21, 2020.
AFP/Maria Tan
PNP logs 133 new COVID-19 cases
MANILA, Philippines — The Philippine National Police recorded 133 new COVID-19 cases among PNP personnel over the weekend, bringing to 20,398 the total number of infections since March last year.
Of the figure, the PNP's Administrative Support for COVID-19 Task Force said four police officers contracted the virus for the second time.
Most of the COVID-19 cases came from the police regional offices with 95, national operational support units with 30, national administrative support units with seven and the PNP national headquarters with one.
The Special Action Force and PNP Academy posted nine COVID-19 infections each.
The Western Visayas police logged 20 COVID-19 cases; Northern Mindanao, 17; Metro Manila, 12, and Central Luzon, 11.
Eastern Visayas and Zamboanga Peninsula recorded nine COVID-19 cases each; Cordillera with four; three each in Ilocos, Cagayan Valley and Mimaropa; two in Calabarzon and one each in Bicol and Bangsamoro.
There were 18,673 recoveries and 1,669 active COVID-19 cases. The death toll stood at 56.
Police personnel with symptoms of the virus were advised to reach out to the PNP Health Service.