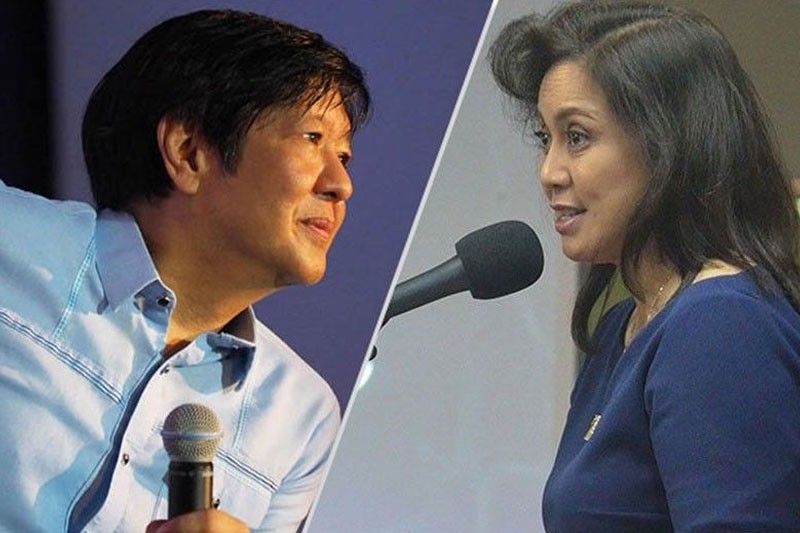 This composite photo shows former Sen. Ferdinand "Bongbong" Marcos Jr. and Vice President Leni Robredo.
BBM staff/Released, file | OVP/Released, file
PET: Marcos failed to back up poll fraud claim
MANILA, Philippines — Former senator Ferdinand Marcos Jr. lost the election protest he filed against Vice President Leni Robredo because he failed to substantiate his claim of anomalies in the three pilot provinces he filed before the Supreme Court, sitting as the Presidential Electoral Tribunal.
Two months after announcing Marcos' defeat in the electoral protest, the PET – through member-in-charge Associate Justice Marvic Leonen ­– released on Monday its 92-page decision.
For his second cause of action, Marcos identified Iloilo, Negros Occidental and Robredo's home province of Camarines Sur, for which the PET revised the paper ballots in 5,415 clustered precincts as a test case that would determine if the PET would proceed with the revision of ballots in the remaining contested clustered precincts.
After the revision and appreciation of votes in the 5,415 clustered precincts, Marcos got 14,36,337 while Robredo received 14,157,771. This means Robredo increased her lead over Marcos from 263,473 votes to 278,566 votes in these three provinces.
"Suffrage is at the heart of every democracy. Election results must not be tainted with unnecessary doubt by losing candidates who cannot accept defeat," said the tribunal, which unanimously voted to dismiss the case over Marcos' "abject failure" to support his claim of "massive anomalies and irregularities."
The PET dismissed Marcos' first cause of action in 2017, saying his allegation of the inauthenticity and unreliability of the certificates of canvass could only be determined by a manual recount of all votes in all precincts.
The magistrates no longer gave due course to Marcos' third cause of action, wherein he alleged terrorism, harassment of voters and pre-shading of ballots in Lanao del Sur, Maguindanao, and Basilan.
"The affidavit lacked specificity and any iota of proof of fraud or irregularity that would entail annulment of elections," the PET said.
Marcos said he will "continue to fight," but his lawyer, Vic Rodriguez, did not confirm whether they will file a motion for reconsideration.