Manila launches no-contact traffic apprehension scheme
December 8, 2020 | 12:00am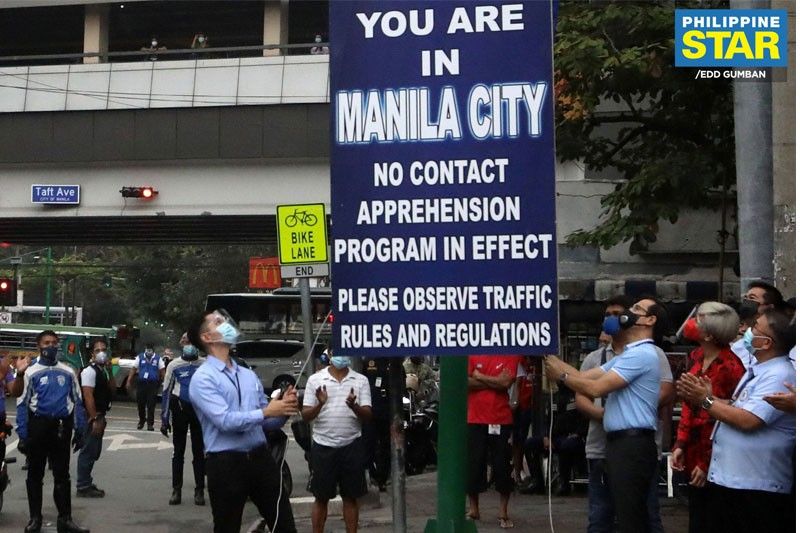 MANILA, Philippines — Manila Mayor Isko Moreno yesterday led the launching of the no-contact traffic apprehension system, which would be implemented along major thoroughfares in the city.
The launch was held at the intersection of President Quirino Avenue and Taft Avenue in Ermita.
Moreno warned motorists to drive safely or risk being caught on surveillance cameras and pay traffic fines.
"With the use of HD (high definition) cameras, traffic violators will be caught and identified even at night time," he said.
Moreno noted the challenges being encountered by members of the Manila Traffic and Parking Bureau (MTPB) in managing traffic and road safety rules.
There are around half a million vehicles passing through Manila daily.
"Operational digitalization is key to ensure the smooth flow of traffic in the city. Our traffic enforcement system is by far the most modern adopted in the Philippines. We are using HD cameras with signature laser tracking technologies installed in key locations in the city to detect traffic violators," Moreno said.
He said the no-contact apprehension scheme works around the clock.
"When an erring motorist is caught, the camera snaps at the vehicle's license plate. The information is sent to the MTPB, which then processes the information sourced from the Land Transportation Office (LTO)," Moreno said.
The MTPB will review the video of the violation and sends a Notice of Violation to the vehicle's registered owner.
Disputes on facts stated in notices are heard by the Manila Traffic Adjudication Board.
Moreno said traffic fines would go straight to the city's treasury to support the welfare programs of the local government.
Traffic fines and penalties may be settled at the MTPB or through designated banks and remittance centers.
Moreno said traffic violators cannot ignore the city's notices as non-payment of traffic violation fines would disallow violators from renewing their vehicles' registration with the LTO.