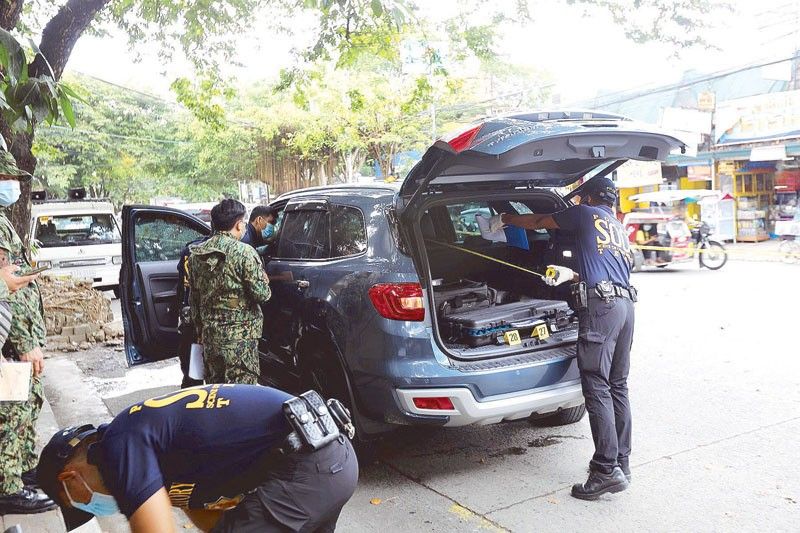 Crime scene investigators gather evidence at the scene of an ambush on National Bureau of Investigation informant Demsen Tan along Holy Spirit Drive in Quezon City yesterday.
Boy Santos
NBI informant, 2 others hurt in ambush
MANILA, Philippines — An informant of the National Bureau of Investigation (NBI) and two others were wounded in an ambush by heavily armed men in Quezon City yesterday morning.
Demsen Tan, 45, was driving his sport utility vehicle (SUV) along Holy Spirit Drive when he was attacked at the corner of Don Jose street in Barangay Holy Spirit at around 9:45 a.m.
Lt. Col. Jeffrey Bilaro, commander of the Quezon City Police District Station 14, said several assailants alighted from another vehicle and surrounded Demsen's SUV.
The assailants, armed with high-powered firearms, strafed the victim's vehicle on both sides.
After being hit in the elbow, Tan was able to get out of his vehicle and take refuge at a nearby grocery store.
Irene Versoza and Carlola Lamata, a pedestrian and a bank client, were hit by stray bullets.
"The victims were brought to the nearest hospital with minor gunshot injuries while bullets also hit parked vehicles," Bilaro said in a report.
?Police investigators recovered a .45 caliber pistol and at least 25 bullet casings from an M-16 rifle at the scene as well as a long firearm and two handguns from Tan's vehicle.
Police have launched a manhunt for the assailants. The motive for the attack has not been established.
The NBI's public information office confirmed that Tan is an informant in its anti-illegal drug campaign.