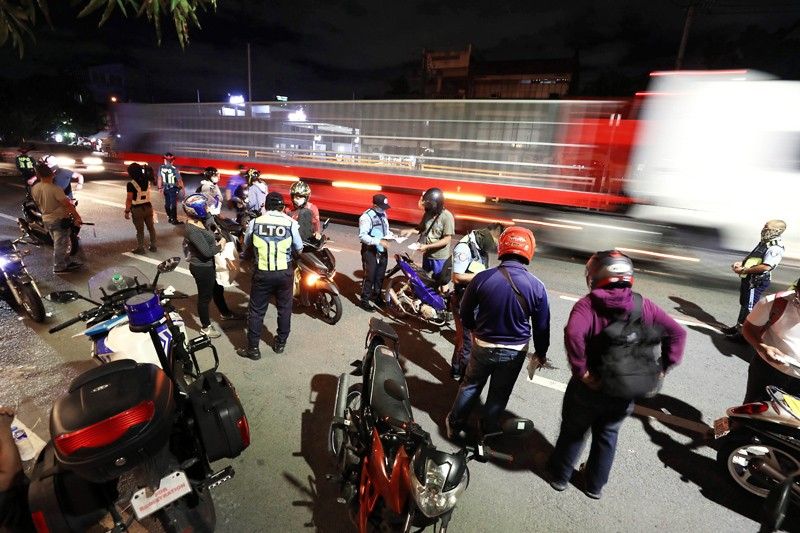 Members of the police Highway Patrol Group, Land Transportation Office and Metropolitan Manila Development Authority launch an operation against drunk and distracted drivers along Lacson Avenue in Manila on Wednesday night.
Miguel De Guzman
MMDA cracks down on distracted drivers
MANILA, Philippines — The Metropolitan Manila Development Authority (MMDA) will help police authorities in enforcing the law against drunk and distracted driving, an official announced yesterday.
MMDA general manager Jojo Garcia said the agency joined the Philippine National Police Highway Patrol Group and Land Transportation Office in a "one time, big time operation" against errant drivers on Wednesday night.
"Hopefully, this becomes a lesson for our motorists that the government is serious in enforcing the laws," Garcia said, adding that errant drivers would have their licenses revoked.
During the crackdown, 90 trucks were pulled over for overloading.
EDSA traffic chief Bong Nebrija said four drivers were accosted for seatbelt violations while three motorists tested positive for drugs.
Nebrija said the agency would join the authorities in enforcing the law against drunk and distracted driving.
According to Garcia, distracted and drunk driving remain a major factor in road crashes in the metropolis.
Of the 100 concrete barrier-related crashes along EDSA, he said less than 10 buses were involved in accidents while the rest were private vehicles.
Garcia said the MMDA is planning to replicate the dedicated lane for bicycles and motorcycles launched by San Juan Mayor Francis Zamora yesterday.
The MMDA will help the national government in connecting the dedicated bike lanes in Metro Manila, Garcia said.
The MMDA has received an average of 90 calls per day and assisted 3,200 people since the One Hospital Command Center, which coordinates hospitals and other treatment facilities in the transfer of COVID-19 patients, was launched last month.