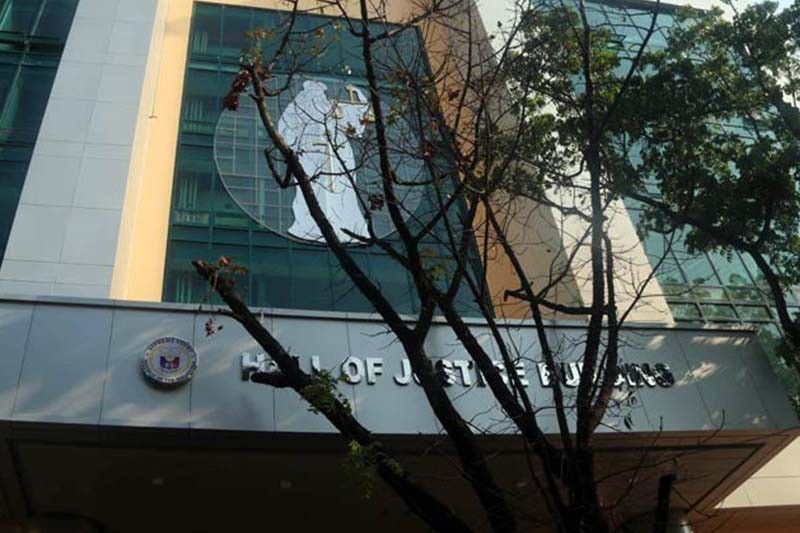 This undated photo shows the Hall of Justice of Quezon City that can accommodate 52 court branches, inaugurated in May 2019.
Quezon City PAISD via Businessworld
QC Hall of Justice on lockdown after worker suspected with COVID-19 dies
MANILA, Philippines — Quezon City's Hall of Justice has been placed on lockdown from May 18 until further notice as its Office of Executive Judge verifies a report that a worker at the hall died of suspected COVID-19.
Quezon City Regional Trial Court Branch 89 Executive Judge Cecilyn Burgos-Villavert said that upon the authority of Court Administrator Midas Marquez, the Hall of Justice (Main and Annex) will be placed on lockdown as the office verifies the report of a worker holding office at the building who died of severe pneumonia.
The worker, who is not a staff of the RTC or the Metropolitan Trial Courts, was at the Hall of Justice "a few days before dying," the statement read.
If proven true, the office will also conduct contact tracing and disinfect the building.
No person shall be allowed to enter the Hall of Justice during the said period, said Villavert in a statement posted by the Supreme Court Public Information Office on Monday.
All initiatory pleadings, in civil and criminal cases, shall be filed electronically and be received by the Office of the Clerk of Court of the RTC or the Metropolitan Trial Court through official addresses posted on the SC website.
Inquiries for the RTC and MeTC can also be directed to hotline numbers of the courts.
Chief Justice Diosdado Peralta, in a circular last week, said courts in areas enforced with Modified Enhanced Community Quarantine shall remain physically closed but will accept all pleadings and petitions online.
Quezon and the rest of Metro Manila are among the areas deemed high-risk to the spread of the coronavirus and have been placed under MECQ. Other localities under MECQ are the Municipality of Pateros, Bataan, Bulacan, Nueva Ecija, Pampanga, Zambales, Angeles City and Laguna.
Civil weddings may also be conducted but parties, witnesses and guests shall not exceed five people.
As It Happens
LATEST UPDATE: June 4, 2020 - 4:10pm
June 4, 2020 - 4:10pm
The National Bureau of Investigation's Death Investigation Division has filed murder and perjury complaints at the Department of Justice against Police M/Sgt. Daniel Florendo and four others over the killing of former soldier Winston Ragos.
Complaints of planting of evidence have also been filed against Florendo and Police S/Sgt. Hector Besas.
Ragos was killed, allegedly in self-defense, in Quezon City on April 21 after a confrontation over quarantine protocols. Florendo shot him, saying the former soldier was reaching for a gun.
A video of the incident showed Ragos had already turned his back to Florendo when he was shot a second time.
May 19, 2020 - 7:59pm
The Department of Foreign Affairs announces that the Philippine Embassy in Yangon repatriated 91 stranded and distressed Filipinos to Manila on Monday through a special chartered Air Asia flight.
"Some of the repatriates were stranded in Yangon due to flight cancellations. Others lost their jobs as a result of COVID-19- related restrictions thus leaving them economically vulnerable to continue living in Myanmar," says the DFA in a statement.
May 19, 2020 - 6:21pm
Government Service Insurance System announces that the pension fund is again extending the deadline for the Annual Pensioners' Information Revalidation (APIR) to 30 June 2020.
"Old-age and survivorship pensioners born in March, April and May need not go to GSIS branches to renew their active status for the time being. We advise them to postpone visiting our branches. They can do their APIR at a later date through our GWAPS kiosks located in large government offices, provincial capitols, city and municipal offices, selected SM and Robinsons malls and GSIS offices. Anyway, they have until 30 June 2020 to do their APIR," says GSIS President and General Manager Rolando Ledesma Macasaet.
May 19, 2020 - 4:29pm
Government should help small public transportation operators adjust to quarantine guidelines, saying workers need to be able get to their workplaces as the government eases restrictions to restart the economy, Senate President Pro Tempore Ralph Recto says.
"[T]he new normal in the pandemic world calls for public transport with reduced capacity and higher operating expense, and yet financially viable to operate. The adjustments will cost money—small by Ramon Ang standards, but a fortune for a jeepney driver or an independent taxi operator who hasn't seen a fare for more than two months," he says.
Aside from the installation of dividers to reduce passengers' exposure, operators will also have to spend to regularly disinfect their vehicles.
"Government should assist their transition to the new normal. Their crucial role entitles them a place in front of the line for the stimulus fund. After all, what they get from the government will not be for their personal consumption, but to retool the vehicles for the riding public's safety," Recto says.
May 19, 2020 - 4:04pm
Alleged government inaction on Police Maj. Gen. Debold Sinas' birthday gathering despite quarantine guidelines last week is in stark contrast with how citizens accused of violating the quarantine are treated, rights group Karapatan says.
Although criminal and administrative proceedings have been initiated against the chief of the National Capital Region Police Office, he has remained at his post.
"Why was he not arrested immediately and jailed along with other officials and personnel of the national police?" Karapatan said in a statement in Filipino.
"How come when it's a regular citizen who breaks quarantine regulations, they are quicker than lightning in imposing a penalty that sometimes strays into inhumane treatment and violations of human rights?"
Karapatan points out that, in some cases, citizens have been made to stay in dog cages, do squats, made to dance, or stay in the heat of the sun as punishment. Some have also been beaten up, arrested, or killed, the group also says.