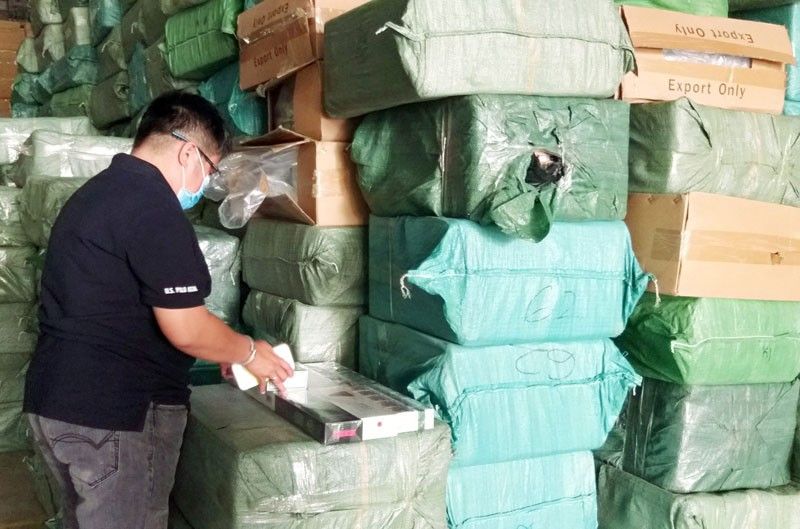 A BIR agent checks counterfeit cigarettes seized during a raid on a warehouse in Barangay Bayabas, Cagayan de Oro City yesterday.
Gerry Lee Gorit
P882 million fake cigarettes seized in CDO
CAGAYAN DE ORO CITY, Philippines — Around 5,000 boxes of counterfeit cigarettes with an estimated value of P882 million were seized during raids on warehouses in Barangays Cugman and Bayabas in this city on Tuesday.
The cigarettes carry the brand names YS Filter, RED, Jackpot, Bravo, Marvels, Astro and Two Moon.
Personnel of the Bureau of Internal Revenue and National Bureau of Investigation conducted the raids based on mission orders issued by BIR regional director Nuzar Balatero, according to Jonathan Darimbang, BIR legal department officer.
Darimbang said around 3,000 boxes of cigarettes were seized in Barangay Bayabas and 1,707 boxes in Cugman.
"Various brands of cigarettes were found to have fake BIR stamps or no stamps at all," he told reporters.
Meanwhile, the Bureau of Customs (BOC) filed charges on Monday against 20 Chinese citizens arrested during a raid on a warehouse in Cabiao, Nueva Ecija on Friday. Around P1 billion worth of counterfeit cigarettes, cigarette-making equipment and raw materials were seized.
BOC assistant commissioner and spokesman Vincent Philip Maronilla said the Chinese suspects were turned over to the Bureau of Immigration to determine if they have illegally entered the country or have pending cases.
Maronilla said the 100 Filipino workers, who are apparent victims of abuse by the Chinese suspects, were released.
He said initial investigation showed the warehouse is owned by the Department of Science and Technology.