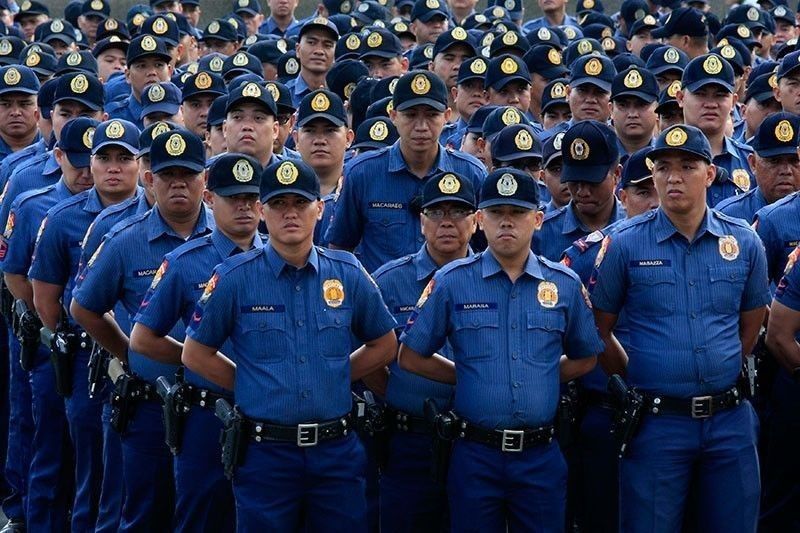 File photo shows police officers in formation.
The STAR/File photo
699 obese cops may face dismissal in Zambo
ZAMBOANGA, Philippines (Update 2: Jan. 18, 2020, 9:55 a.m.) — A total of 699 police personnel from Police Regional Office 9 (PRO-9) considered obese may face removal from service if they fail to comply with the intervention program, according to official.
Brig. Gen. Froilan Quidilla, PRO-9 regional director, called for the said policemen from their mother units Zamboanga peninsula region, who reported Thursday to the regional headquarters for Body Mass Index (BMI) evaluation.
Philippine National Police officer-in-charge Lt. Gen. Archie Francisco Gamboa ordered all police personnel to undergo a BMI evaluation as part of the PNP internal cleansing program.
Under the PNP revised Body Mass Index, policemen who are severely underweight are prescribed to gain weight of one to three kilos per month while obese policemen are recommended to lose two kilos per month until they reach the normal BMI range.
During evaluation at Camp Abendan, Quidilla said that many cops were found to be obese. Below is the breakdown of obese policemen from each unit:
42 - Regional headquarters
5 - Isabela City Police Station
178 - Zamboanga del Norte Police Provincial Office (ZNPPO)
182 - Zamboanga del Sur Provincial Police Office (ZSPPO),
181 - Zamboanga City Police Office (ZCPO),
86 - Zamboanga Sibugay Provincial Police Office (ZSBPPO)
25 - Police combat force of Regional Mobile Force Battalion 9 (RMFB).
According to Quidilla, at least 9.23% from 7,574 police personnel were considered obese.
The police regional director said his office will strictly monitor the conduct of appropriate intervention program and its outcome.
"Everyone must be fit in performing law enforcement jobs," Quidilla said.
"BMI should be strictly complied as part of the internal cleansing program otherwise a dismissal order is sought against any member of the PNP," he added.