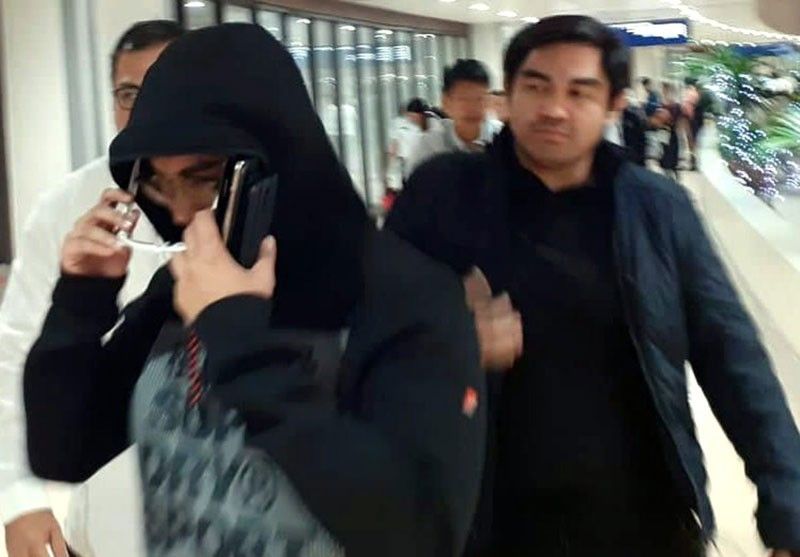 Nicardo Falcis II is flanked by a law enforcer (left) and his lawyer-brother Jesus Falcis following his arrest at the Ninoy Aquino International Airport Terminal 1 Thursday night.
Rudy Santos
Kris Aquino' ex-business partner arrested
Rudy Santos
(The Philippine Star) - December 14, 2019 - 12:00am
MANILA, Philippines — A former business partner of television personality Kris Aquino was arrested on Thursday upon his arrival at the Ninoy Aquino International Airport Terminal 1 (NAIA-1) from Thailand.
Nicardio "Nicko" Falcis II is the subject of two arrest warrants issued by the Taguig Regional Trial Court Branchs 117 and 70 for estafa through misappropriation or conversion and violating Republic Act 8484, the access devices regulation law.
The courts, which dismissed the charge of qualified theft, set bail at P6,000 for estafa and P60,000 for violating RA 8484.
An immigration officer informed Falcis of the arrest warrants when he presented his passport at the immigration arrival counter when he arrived with his family.
Aquino alleged that Falcis made unauthorized purchases amounting to P63,000 in different establishments in Taguig in 2018 using a credit card entrusted to him as managing director of Aquino's firm, Kristina C. Aquino Productions (KCAP).
Falcis said Aquino had the credit card issued for his use without the need for her approval. He also said the expenses were all related to KCAP meetings with clients.
The Taguig prosecutor's office said there is enough evidence to believe that Falcis used the corporate credit card for his "personal benefit."
The prosecutor's office also noted that Falcis' issuance of a P437,000 check to pay for the questioned credit card transactions as proof the transactions were not official.
In October 2018, Aquino filed around 44 counts of qualified theft and violation of RA 8484 charges before various courts in Metro Manila against Falcis for allegedly stealing P1.27 million through credit card transactions using KCAP's account. Some of the cases have been dismissed.
In previous reports, Falcis said he flew to Bangkok upon Aquino's instructions to attend a short course but did not return to the country after receiving a threatening phone call from Aquino.