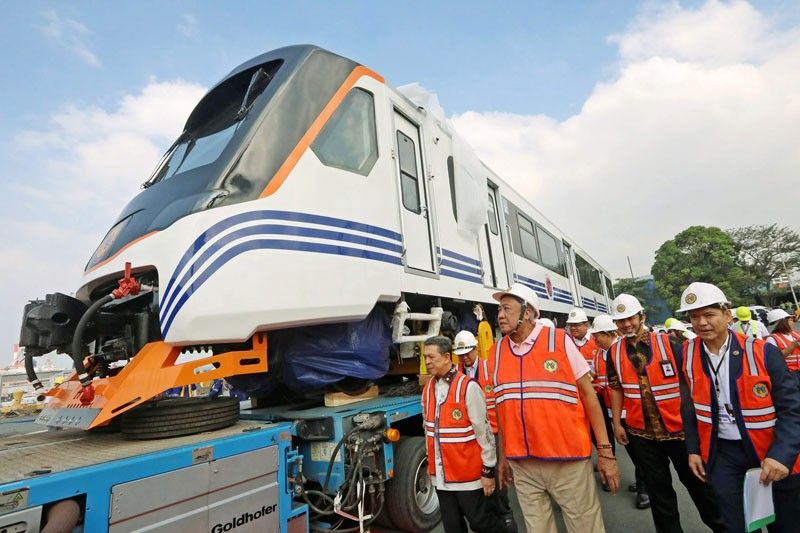 Transportation Secretary Arthur Tugade, Indonesian Ambassador Sinyo Harry Sarundajang and PNR general manager Junn Magno lead the unveiling of a six-diesel train in Port Area, Manila yesterday.
EDD GUMBAN
PNR modernization moves full steam ahead
MANILA, Philippines — The Philippine National Railways (PNR) is moving full steam with the modernization of its fleet with the arrival of two trains from Indonesia, officials said yesterday.
The trains, composed of six-diesel multiple unit motor coaches, are part of the 37 rail cars and three locomotives acquired from PT Inka of Indonesia.
Transportation Secretary Arthur Tugade said the trains would be deployed on the PNR's FTI-Tutuban and FTI-Malabon routes starting Dec. 16.
The PNR will add 18 to 20 trips per day to these routes, increasing operational capacity to better serve the public. Each coach can accommodate 250 passengers.
"We need to increase capacity by adding more trains. With these new trains, commuters using the PNR will have a comfortable, convenient and safe travel," Tugade said.
He said 31 more coaches are set to be delivered starting this month until February next year.
"By January next year, we are expecting to have a total of 40 operating coaches to be able to service the requirements of the expanded routes from 17 to 36," Tugade said.
In a span of three years, the transportation chief said the PNR has doubled the number of stations that cater to the mobility and connectivity of Filipinos.
"When we assumed the helm of the PNR there were only 17 routes. As we speak today, there are already 36 operating routes," Tugade said.
Last week, the PNR extended its rail services farther to the south with the addition of new stations and a train from Japan.
The PNR line starting from Tutuban, Manila has added five stations past the Calamba station. The new stations are Pansol, Masili, Los Baños, College, which is also in Los Baños town, and the International Rice Research Institute.