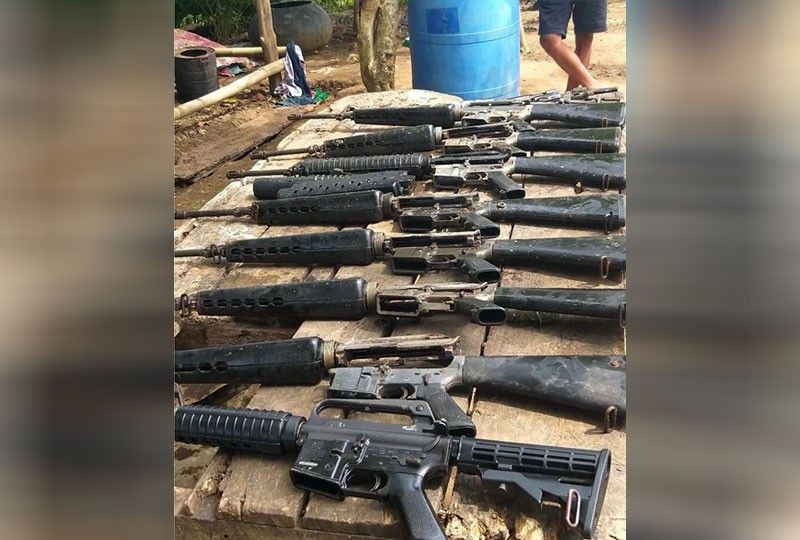 Handout photo shows part of the arms cache seized after two NPA leaders were arrested in Sultan Naga Dimaporo, Lanao del Norte on Sunday.
2 Lanao NPA leaders held; arms cache seized
COTABATO CITY, Philippines — Two New People's Army (NPA) leaders were arrested in Sultan Naga Dimaporo town in Lanao del Norte on Sunday.
Cristopher Cañete, intelligence staff head of the NPA's North-Central Mindanao Regional Committee, and Virjon Virtudazo, political instructor of the Platoon Bingo Moro Company, did not resist arrest when authorities cordoned their hideout in Barangay Dableston.
Lt. Gen. Cirilito Sobejana, Western Mindanao Command chief, said the communist leaders yielded a caliber .45 pistol, a caliber .38 revolver, an improvised explosive device, two rifle grenades, a blasting cap and a detonating fuse.
Sobejana said Cañete and Virtudazo also led police and military personnel to the location of an arms cache.
Seven M16 rifles, an AR18 rifle, an M203 rifle fitted with a grenade launcher, a .38-caliber revolver, eight 40 millimeter grenade projectiles and thousands of ammunition for a 5.56 caliber rifle were recovered in Barangay Sto. Niño in Kapatagan, also in Lanao del Norte.
Sobejana said military operations against NPA rebels would continue even as he gave assurance that assistance would be provided to those who will surrender.
Medalya ng Kagalingan
Meanwhile, Philippine National Police officer-in-charge Lt. Gen. Archie Francisco Gamboa led the awarding yesterday of the Medalya ng Kagalingan to police officers who recently arrested 55 communist rebels in Negros Occidental.
Col. Benliner Capili, head of the Criminal Investigation and Detection Group-Western Visayas office; Lt. Col. Anthony Gatang; Chief M/Sgt. Ramiro Gocotano; Senior M/Sgts. Rex Himodo, Alberto Sombilon and Jerome Jambaro, and Patrolmen Elmer Toos, Eljhon Dapitan, Meshijara Beare and John Patrick Evangelista received the medals.
At least 32 guns, three fragmentation grenades and rounds of assorted ammunition were recovered from the rebels, nine of them considered "high-value" targets. –