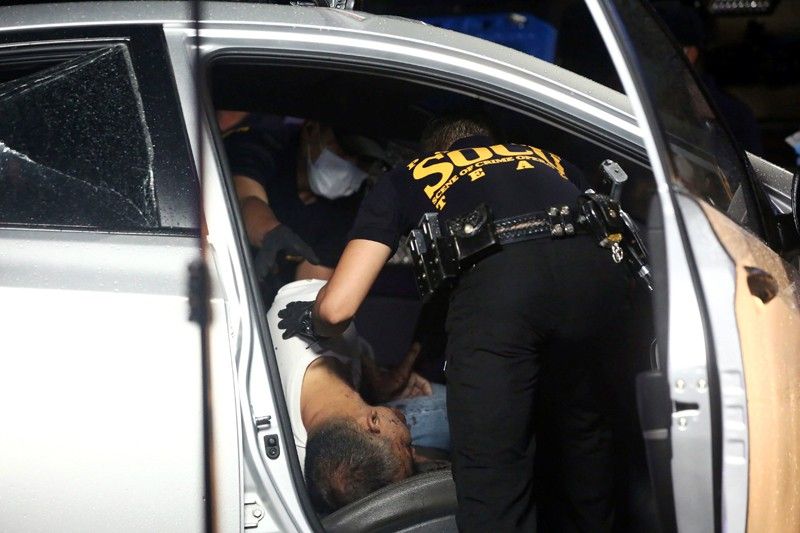 Crime scene investigators gather evidence at the scene of an ambush on Lt. Ernesto Mendoza Jr. along Malingap street in Quezon City on Tuesday night.
Miguel De Guzman
QCPD official gunned down
MANILA,Philippines — A police official was killed in an ambush in Quezon City Tuesday night.
Capt. Rohaina Asalan, spokesperson for the Quezon City Police District, said in a text message that Lt. Ernesto Mendoza Jr., 52, assigned with the QCPD's logistics division, was shot in Barangay Teachers Village at around 8:10 p.m.
Initial investigation showed the victim was driving his Hyundai Accent when armed men on a motorcycle attacked him at the corner of Malingap and Mapagkawanggawa streets.
According to witnesses, the back rider pulled out a handgun and shot his vehicle multiple times.
Mendoza died at the scene from multiple gunshot wounds in the body.
The police officer's uniform was hanging at the back of his car, according to Asalan.
Yesterday, the QCPD formed a 10-man special investigation task group, led by deputy district director for operations Col. Enrico Vargas to solve Mendoza's murder, said acting district director Col. Ronnie Montejo.
Montejo said they are conducting a background investigation on Mendoza, including if he was ever involved in illegal drugs.
"It is included in our investigation," he said in a phone interview.
Probers recovered 11 bullet casings and two deformed bullets at the scene.
Mendoza was assigned to the Caraga police in 2016. He was also a member of the QCPD's special operations unit in 2015.