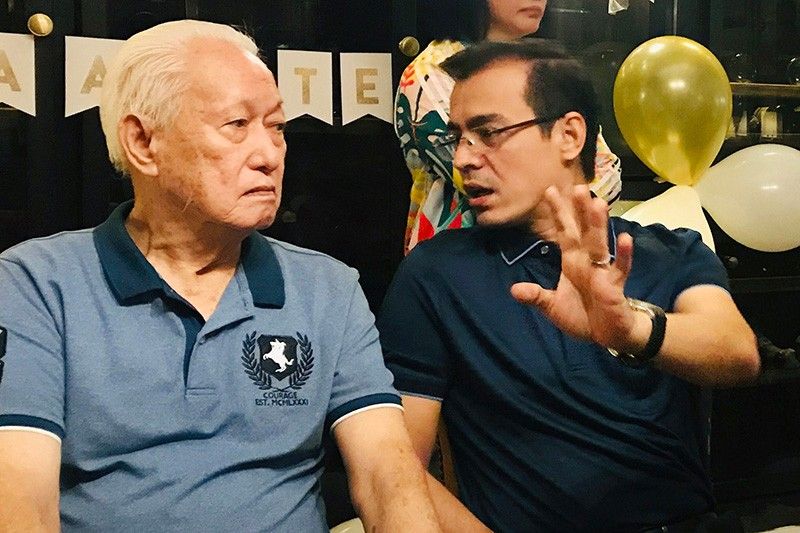 Former mayor Alfredo Lim and Manila Mayor Isko Moreno talk on the sidelines of the Universidad de Manila's 25th anniversary celebration on Thursday.
Isko honors Lim at UDM anniversary
(The Philippine Star) - October 19, 2019 - 12:00am
MANILA, Philippines – Manila Mayor Isko Moreno on Thursday extolled former mayor Alfredo Lim for having established the Universidad de Manila (UDM), which gives free education to the city's high school graduates.
"We give credit where it is due. We're all here today because of one person's idea or concept. We are gathered here today because of Alfredo Lim," Moreno said in his message during UDM's 25th anniversary.
He said that in return, it is now the city obligation of UDM and the city government to work on making the university better.
Moreno said he hopes that for UDM's 25th anniversary, the theme would focus on how the university would reach the level of Pamantasan ng Lungsod ng Maynila (PLM).
"That's a challenge for you now, students of UDM," he said.
Moreno said he wants to do away with the misconception that those who study at PLM are better students, stressing that professors in both schools use the same teaching materials. He added that he hopes to hear news of UDM producing topnotchers.
At the same event, Moreno opened to the public the newly refurbished Mehan Garden but asked that visitors to keep it clean at all times and preserve its beauty.