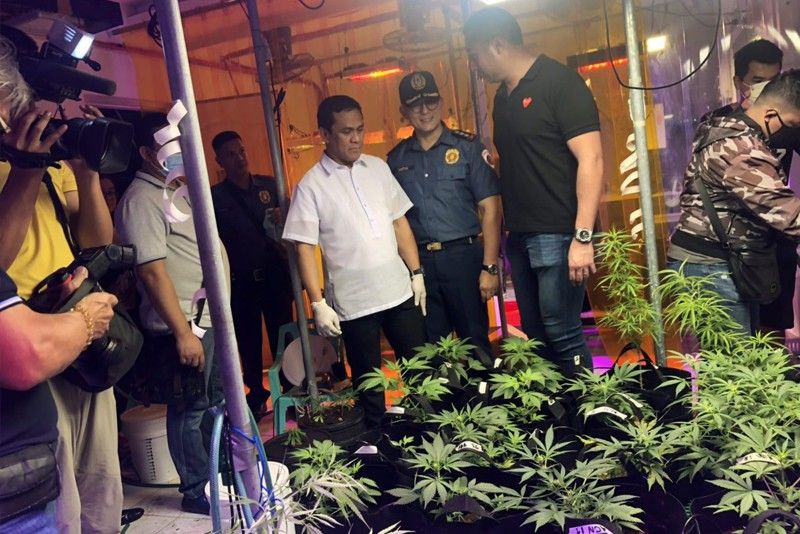 San Juan Mayor Francis Zamora (right) talks to city police chief Col. Jaime Santos and Vice Mayor Warren Villa during a raid on a marijuana farm at a condominium building Thursday night.
Cops raid indoor weed farm in San Juan
MANILA, Philippines — Police raided an indoor marijuana farm at a condominium in Barangay Batis, San Juan City Thursday night.
The raiding team found 55 young plants in an air-conditioned unit on the fourth floor of the five-story building and 55 fully grown plants on the roofdeck, said city police chief Col. Jaime Santos.
Police officers implemented a search warrant issued by Pasig Regional Trial Court Branch 152 Judge Danilo Cruz and confiscated P1 million worth of equipment used in the cultivation of marijuana plants as well as packs of marijuana leaves ready for distribution, he added.
Aaron Huang, who had been renting the unit for the past seven months, was not there during the raid.
Maj. Gen. Guillermo Eleazar, National Capital Region Police Office chief, vowed to throw the book at the owner of the condominium, identified as Ming Uy, should he refuse to cooperate in the investigation.
Eleazar, Eastern Police District director Brig. Gen. Johnson Almazan and Mayor Francis Zamora rushed to the scene to supervise the investigation.
"The area being used as an indoor cultivation of marijuana is considered one of the biggest since the one discovered in Marikina City years back," Eleazar said in an interview.
Zamora said the raid on the marijuana farm should serve as a warning to other drug syndicates not to operate in San Juan.
Almazan said tenants tipped off Santos on the marijuana farm at the condominium on A. Rita street, prompting police officers to stage the raid at around 7:10 p.m.
Huang was at the lobby of the condominium when the police officers, who were in uniform, arrived. He hurried out of the building, Santos said.
Santos said they have no idea whether Huang himself sold the dried marijuana and who his clients are.
Uy has sent word that he would cooperate in the investigation and appear before police investigators as soon as he hires a lawyer, Santos said.