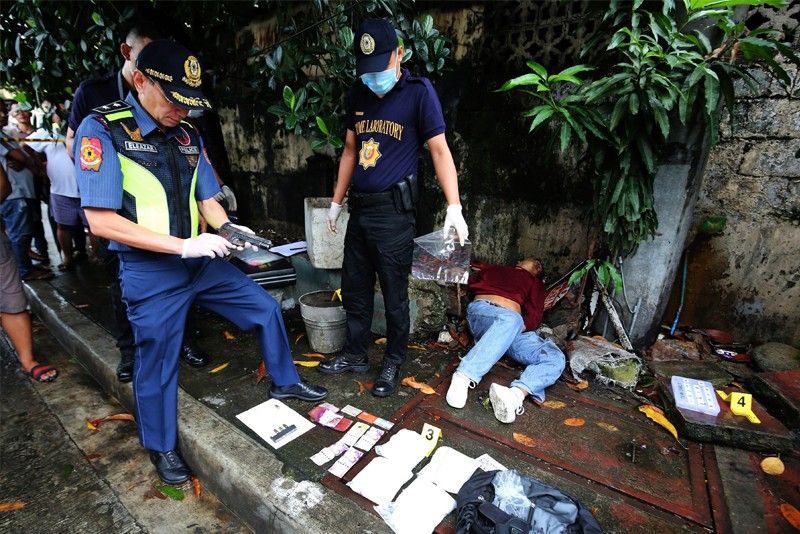 NCRPO director Maj. Gen. Guillermo Eleazar inspects the gun recovered near the body of Edgardo Alfonso in Barangay San Roque, Cubao, Quezon City yesterday.
Michael Varcas
Drug courier slain; P27-million shabu seized
Non Alquitran
(The Philippine Star) - September 16, 2019 - 12:00am
MANILA, Philippines — A suspected courier for a drug ring operating in Metro Manila was killed in what police said was a shootout during a sting in Cubao, Quezon City yesterday that yielded around four kilos of shabu worth P27.2 million.
National Capital Region Police Office (NCRPO) director Maj. Gen. Guillermo Eleazar said they were validating reports that slain suspect Edgardo Alfonso, 50, was working for a drug convict at the New Bilibid Prison (NBP) in Muntinlupa.
"We received information that Alfonso was the courier or operator of a drug lord outside the NBP," Eleazar said.
Police said Alfonso, of Barangay Tramo in Pasig City, had been placed under surveillance by the NCRPO Regional Drug Enforcement Unit amid reports that he was behind the distribution of drugs in the metropolis.
Anti-narcotics agents were able to close a P1.5-million drug deal with the suspect at a gasoline station at the corner of P. Tuazon Boulevard and 18th Avenue in Barangay San Roque at around 5:50 a.m.
After handing over a kilo of shabu to a policeman who posed as a buyer, Alfonso sensed the presence of police.
The suspect tried to escape as he reportedly fired at the policemen, but he was neutralized in the ensuing gunfight.
Alfonso died at the scene from gunshots to the body.
Police said they recovered a .45-caliber handgun and the marked money from the suspect.
Another three kilos of shabu were found in Alfonso's backpack, according to authorities.
Eleazar said he ordered his men to track down Alfonso's cohorts as couriers of the drug convict.
"Our informants provided us information regarding Alfonso's drug activities and we are working on the group's neutralization," Eleazar said.
He added that Alfonso was a high-value target of the NCRPO.
The seized drugs were brought to the crime laboratory of the Philippine National Police for examination.
Police said the neutralization of Alfonso would help reduce the proliferation of drugs in the metropolis.
Drug surrenderee nabbed
In San Juan City, a drug surrenderee was arrested yesterday during a raid on his house in Barangay West Crame.
Jason Servania, alias Ivler, 30, allegedly yielded 12 sachets of shabu and drug sniffing paraphernalia, according to city police chief Col. Jaime Santos.
Police said Servania was nabbed based on a search warrant issued by Judge Danilo Cruz of the Pasig City Regional Trial Court Branch 152 for violating Republic Act 9165 or the Comprehensive Dangerous Drugs Act.
Servania had surrendered to police under Oplan Tokhang in 2016.
He failed to continue his drug rehabilitation program launched by the city government to reform drug users and pushers who voluntarily surrendered to authorities.
Probers said they received information that Servania had allegedly returned to drug pushing, prompting police to conduct an operation against him.
Servania did not resist arrest when a police team headed by Capt. Edwin Malabanan, head of the station's drug enforcement unit, served the search warrant at his house.
The suspect was detained at the San Juan police station pending his transfer to the court. – With Romina Cabrera