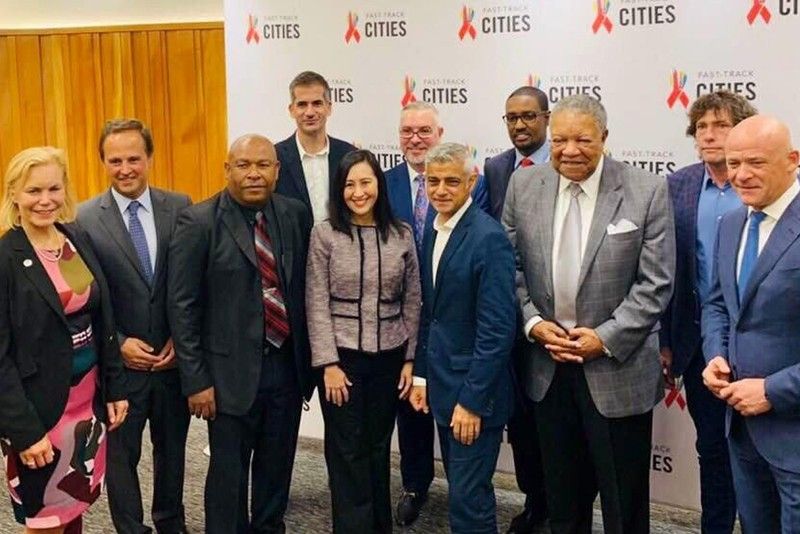 Quezon City Mayor Joy Belmonte (fifth from left) poses with fellow delegates to the Fast-Track Cities 2019 Conference in London.
Joy Belmonte tackles anti-HIV initiatives in London conference
Janvic Mateo
(The Philippine Star) - September 15, 2019 - 12:00am
MANILA, Philippines — Quezon City Mayor Joy Belmonte has joined a select panel of local executives from around the world to discuss efforts to address heath inequalities, particularly the increasing number of human immunodeficiency virus (HIV) cases in the country.
Belmonte was the lone Philippine representative in the four-day Fast-Track Cities 2019 Conference held in London this week.
She was among the nine city and municipal officials who served as panelists during the High-Level Panel on Health Inequalities, which signaled the opening of the conference on Monday.
Also part of the panel were Mayors Kostas Bakoyannis (Athens, Greece), Fernando Medina (Lisbon, Portugal), Svante Myrick (Ithaca, United States) and Gennadiy Trukhanov (Ithaca, Ukraine); Deputy Mayors Winston Ennis (Kingston, Jamaica), Simone Kukenheim (Amsterdam, Netherlands), Mykola Povoroznyk (Kiev, Ukraine); and Chairman Robb Pitts (Fulton County, United States).
"It was a privilege to have been one of the panelists at the High-Level Discussions on Health Inequalities and talked about how to ensure we are not leaving anyone behind in providing services to our people, particularly the discriminated and stigmatized," said Belmonte.
The mayor discussed the city's initiatives to address the rising HIV cases in the country, including the passage of policies such as the ordinance on age-appropriate education on HIV and its progressive condition, the acquired immunodeficiency syndrome (AIDS).
She also tackled issues concerning drug policy reform during the high-level discussion.
"Quezon City prides itself as an example of how committed leadership and key partnerships count," Belmonte said in her message on the Fast-Track Cities website.
"It has prioritized the AIDS response at the very highest levels of government, working closely with UNAIDS (Joint United Nations Programme on HIV/AIDS) in an unrelenting effort to pursue and sustain its programme of zero new HIV infections, zero discrimination and zero AIDS-related deaths," she added.
Organized by the International Association of Providers of AIDS Care in collaboration with UNAIDS and other partners, Fast-Track Cities 2019 is the first international gathering of more than 300 cities that are accelerating their responses to HIV, tuberculosis and viral hepatitis.
The conference aims to highlight successes achieved across the Fast-Track Cities network, address cross-cutting challenges faced by local stakeholders and share best practices in accelerating urban responses to these health issues.