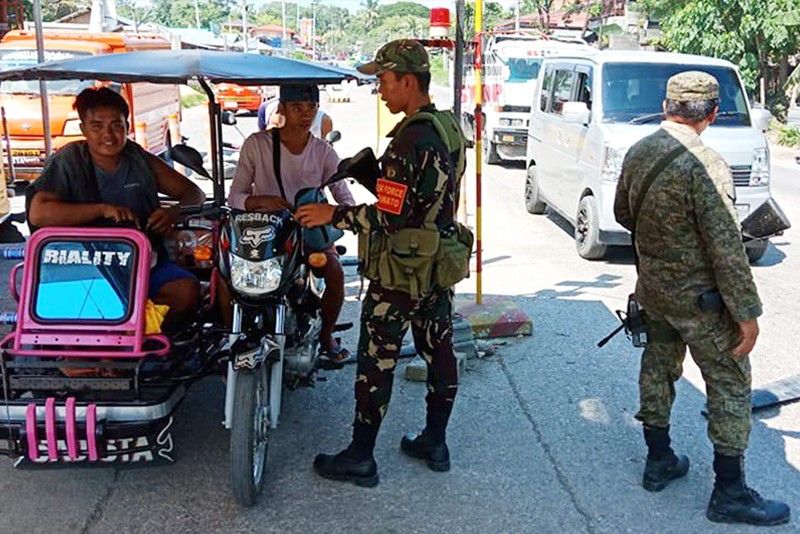 Army troopers inspect vehicles at the border of Cotabato City and Maguindanao yesterday as part of intensified security following an explosion in Isulan, Sultan Kudarat on Saturday.
John Unson
CHR condemns Sultan Kudarat bomb attack
MANILA, Philippines — The Commission on Human Rights (CHR) yesterday condemned a bomb attack in Isulan, Sultan Kudarat that wounded eight persons on Saturday.
The Islamic State terror group has claimed responsibility for the explosion, which follows three incidents in the past year that authorities said were suicide bombings by IS-linked militants.
Lawyer Jacqueline Ann de Guia, spokesperson for the CHR, described the incident as an affront to every Filipino's right to peace.
"We urge the government to find the perpetrators of this violence and ensure they are made accountable for their crimes," De Guia said in a statement.
Authorities said they have yet to identify the suspects who left an improvised explosive device in front of a market in Isulan on Saturday.
"We pray for the victims' speedy recovery," De Guia added.
The CHR said the incident raised the need for a sustainable solution to peace, noting that Filipinos could not allow this kind of violence to keep on happening.
"Nobody deserves to live in fear and insecurity. We urge the country to stand with the residents of Isulan and elsewhere in the Philippines in ensuring that peace will always win," she said.
De Guia cited bombings that occurred in Isulan this year and in 2018.
"In April, at least 18 people were wounded when an explosion hit a restaurant in Isulan. In August and September 2018, two succeeding blasts also rocked the same town resulting in deaths and injuries," De Guia said.