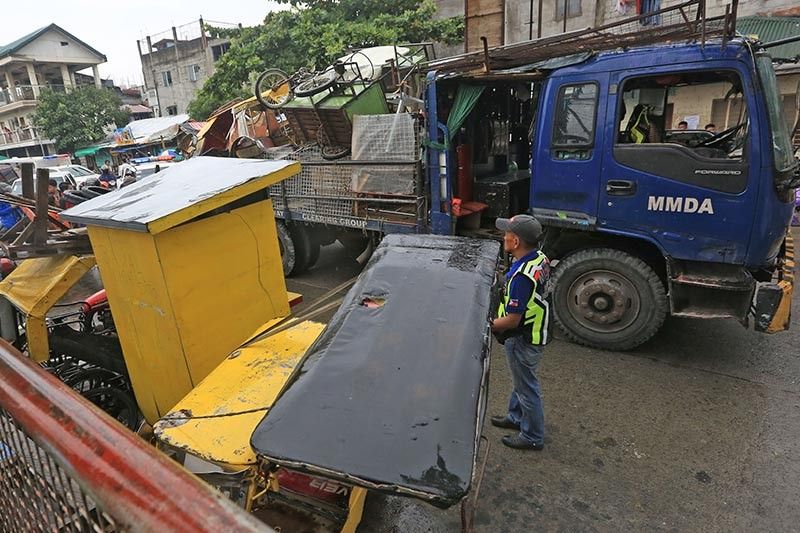 In this Aug. 27, 2019 photo, Metropolitan Manila Development Authority personnel hoist small stalls and tricycles onto a truck as part of the move to clear roads of obstructions.
The STAR/Edd Gumban
DILG: Over 1,400 illegal vendors removed in Metro Manila clearing ops
MANILA, Philippines — The Department of the Interior and Local Government on Tuesday reported that all road clearing operations are "proceeding smoothly" in all 17 local government units in Metro Manila ahead of the 60-day deadline set by the agency.
Interior Secretary Eduardo Año said that in Metro Manila alone, the clearing operations led to the removal of 1,444 illegal vendors.
He added that around 49 terminals of tricycles, jeepneys, pedicabs and other public utility vehicles were removed from public roads while 813 obstructions such as booths, and monoblocks, among others were cleared.
"As of today, a total of 139,959 meters of roads and 52,831 meters of sidewalk in Metro Manila have been reportedly cleared of obstructions and illegal structures," Año said.
Last July 29, Año issued DILG Memorandum Circular No. 2019-121 directing all local government units and concerned agencies to make an inventory of public road networks and clear roads of obstructions within their jurisdictions in 60 days.
This order stemmed from President Rodrigo Duterte's pronouncement during his fourth State of the Nation Address to reclaim public roads used for private ends by clearing it of unnecessary structures.
Less than a month into the September 29 deadline, Año said 43.3% or a sizeable portion of all LGUs nationwide complied with the road clearing memorandum within their localities.
This percentage accounts to 707 LGUs in the country which reported to have conducted road clearing operations.
READ: Manila mayors confident of meeting deadline to clear roads
DILG spokesperson Jonathan Malaya said that the latest compliance report submitted to the agency's Bureau of Local Government Supervision showed that 397 LGUs reported having enacted or revisited their ordinances on road clearing and banning of illegal construction and 931 LGUs completed an inventory of roads within their jurisdiction.

The BLGS report added that 668 LGUs reported having displacement strategies in place for those affected by the clearing operations; and 609 reported to have rehabilitation efforts on recovered public roads.
Metro Manila is top complying region
Malaya said Metro Manila is the top complying region to the road clearing memorandum followed by Cagayan Valley with 77.5% of its LGUs following through the DILG order.
Central Luzon is also among the top complying regions with 62.3% LGUs, Central Visayas with 58.3%, Calabarzon with 53.5% and Western Visayas with 52.6%.
All LGUs in Metro Manila completed an inventory of roads and conducted road clearing operations.
According to the BLGS report, 13 LGUs have implemented ordinances on road clearing operations, while the LGUs of the cities of Makati, Malabon, San Juan and Pateros issued executive orders and established task forces to carry out road clearing operations.
Año said the most common obstructions cleared in Metro Manila were illegally parked vehicles, sidewalk vendors, street dwellers and barangay outposts.
The DILG chief lauded Marikina City for its strict implementation of city ordinances on regulating the use of sidewalks and roads.
"Marikina's experience reveals how effective the Memorandum can be in reclaiming roads and public areas once fully adopted and sustained by the LGU,"Año remarked.
Año also commended Valenzuela City for setting up strategy centers that involved village chiefs to conduct operations and inform and educate the citizens about the initiatives relating to the memorandum.
"Reporting of obstructions can be coursed through the barangays, and progress updates are regularly posted in their social media channels," the DILG said.
'More work needs to be done'
For all these road clearing progress, Año said he is satisfied. However, he said more work "needs to be done."
"We are pleased with the support, cooperation, and compliance of Metro mayors to the presidential directive but we need to do more and we expect them to sustain their efforts in order to help clear the streets of Metro Manila of traffic," Año said.
"Notwithstanding the hardwork put in by the LGUs in this effort, we also have to give credit to the close monitoring made by our DILG Undersecretaries and Assistant Secretaries who have been assigned to assist LGUs in Metro Manila," he added.
The DILG chief also urged all national government agencies to follow the president's directive and not wait for them to call their attention. He asked all the agencies and barangays to self-demolish their structures that are encroaching on public sidewalks.