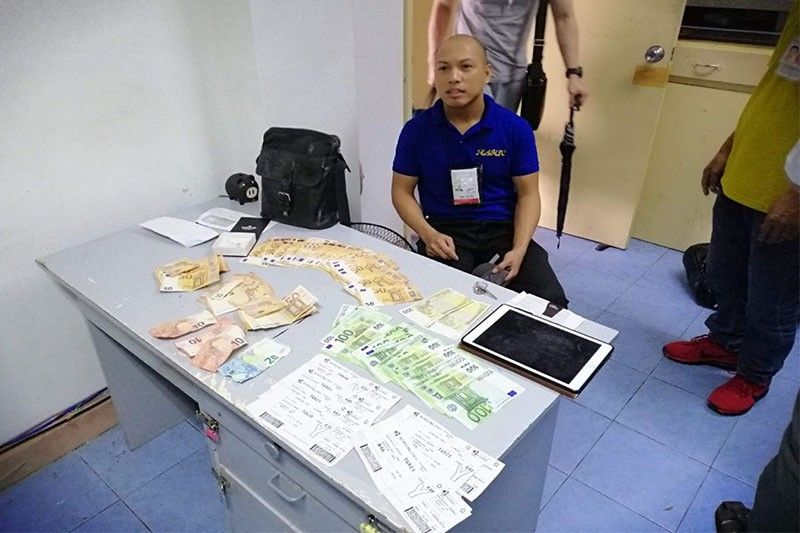 In this Aug. 10, 2019 photo, airport cleaner Sixto Brillante Jr., airport cleaner of Manila Allied Management Service Cooperative, returned valuables of an arriving passenger.
MIAA/Released
'Man of integrity': Airport cleaner lauded for returning bag with P430K
(Philstar.com) - August 13, 2019 - 9:15pm
MANILA, Philippines — Manila International Airport Authority General Manager Ed Monreal praised an airport cleaner at the Ninoy Aquino International Airport after he returned a bag containing valuables and money amounting to around P430,000.
Sixto Brillante Jr., airport cleaner of Manila Allied Management Service Cooperative, did not let the temptation get the best of him as he returned a bag inadvertently left by a Turkish passenger last August 10.
"Mr. Brillante could have easily kept the bag and favorably benefitted from what's inside it, but he chose to surrender it. I admire him for his integrity. Hearing stories like this make us Filipinos proud," Monreal said.
Brillante, assigned in the male comfort room near the immigration area, was mopping the floor when he was informed by a passenger about a black sling bag someone left behind.
The airport cleaner then coordinated with his partner assigned at the female comfort room to help find the owner of the black sling bag.
They turned over the bag to the lost and found section of the Intelligence and Investigation Division of the MIAA.
It contained two envelopes with cash amounting to 7,3000 Euros or P430,000 as well as a wallet and an iPad.
The bag was then returned to its owner an hour and a half later after the Turkish passenger, who refused to be named, looked for it. The owner underwent a verification process before the items were returned to him.
Following the incident, Monreal encouraged airport workers to practice honesty in any situation.
"Doing good should never be an option. It must be a way of life for all of us," the airport chief said. — Rosette Adel