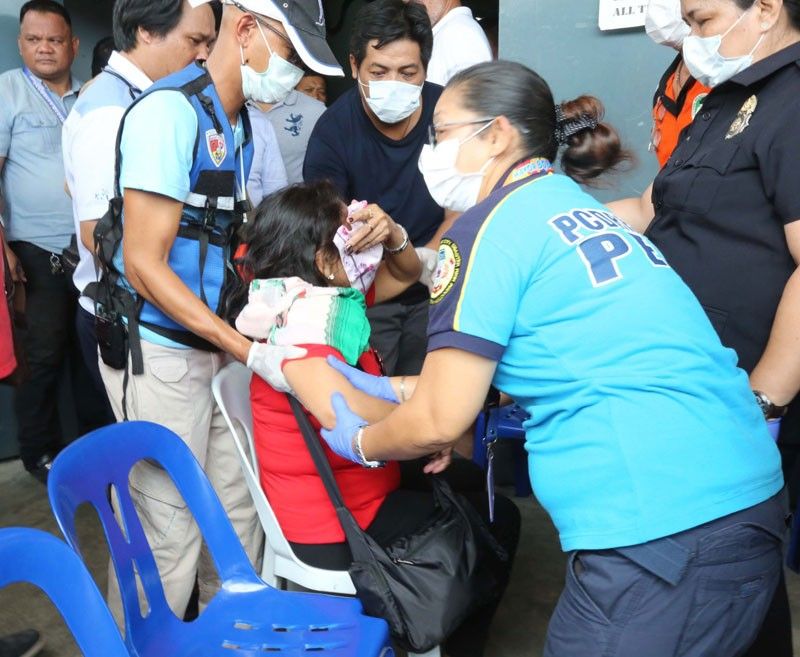 Hundreds of visitors attending of birthday celebration of first Lady Imelda Marcos was brought to the nearest hospital due to food poison at Ynarez Gym in Pasig City
Boy Santos
PhilHealth to help Imelda party food poisoning victims
MANILA, Philippines — The Philippine Health Insurance Corp. (PhilHealth) yesterday offered to help pay for the medical bills of more than 200 supporters who suffered food poisoning during the birthday celebration of former first lady Imelda Marcos.
"We want to assure those affected that in case hospitalization is required, they can bank on their PhilHealth coverage for financial protection," PhilHealth president Ricardo Morales said in a statement.
He said the agency pays up to P6,000 for food poisoning or acute gastroenteritis with moderate to severe dehydration when confined in any PhilHealth-accredited hospital.
Morales said PhilHealth members needing confinement in public or private hospitals can avail themselves of benefits and expect assistance from the state insurance firm.
According to Morales, PhilHealth is mandated to provide responsive health care benefits to its members at all times, specially during emergency cases.
He said PhilHealth has Customer Assistance, Relations and Empowerment Staff stationed in public and private hospitals to assist the victims in availing of their benefits.
For non-PhilHealth members confined in government hospitals, Morales said they can avail of the point of service program.
Marcos' daughter, Sen. Imee Marcos, who was present at the event held at the Ynares Sports Arena in Pasig City on Wednesday, said in her Facebook page that they "will look after the victims and will visit those in the hospitals."
Meanwhile, the Department of Health yesterday urged those who attend Marcos' 90th birthday celebration to seek immediate medical attention.
"Upon onset of signs and symptoms (of food poisoning) such as nausea, vomiting, diarrhea, stomach cramps, weakness, fever, and chills, one must seek medical attention," Health Secretary Francisco Duque said.
Based on DOH data, 261 people were taken to different hospitals after consuming a packed lunch of chicken adobo, boiled egg and rice as well as mineral water distributed during the said event.
Duque said all the patients were placed under 48-hour hydration to ensure their full recovery.