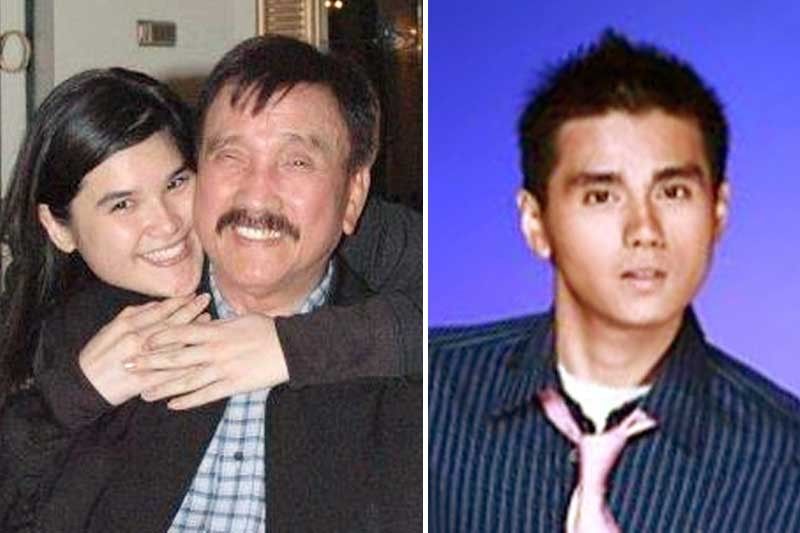 Ramona Bautista, shown hugging her father Ramon Revilla Sr., is still wanted for the murder of her brother Ram Revilla (right). Images taken from Facebook.
Ram Revilla slay suspects cleared
Ghio Ong
(The Philippine Star) - June 15, 2019 - 12:00am
MANILA, Philippines — The suspects in the 2011 killing of actor Ram Revilla and the shooting of his girlfriend Janelle Manahan were acquitted yesterday.
In a 144-page decision, Judge Betlee-Ian Barraquias found Revilla's brother, Ramon Joseph Bautista, and his alleged accomplices Michael Jay Nartea, Roy Francis Tolisora, Glaiza Visda, Jan Norwin dela Cruz and Bryan Pastera not guilty of murder and frustrated murder "for lack of sufficient evidence."
No piece of evidence presented by police could link the six accused to the crime, the judge said, noting that a scabbard found in Revilla's bedroom, where he was killed by a masked assailant, "did not contain any fingerprint."
Bullet casings, slugs and the scabbard were recovered in the room but police did not find the gun and bladed weapon used in the attack.
Revilla, whose real name is Ramgen Jose Bautista, is a son of former actor and senator Ramon Revilla Sr. and Genelyn Magsaysay.
The judge also ordered the issuance of an alias warrant of arrest for another accused in the actor's killing, Revilla's sister Ramona Bautista, who remains at large.
Revilla and Manahan were attacked at his house in BF Homes, Parañaque. Manahan was shot in the face but survived.
Manahan alleged that she opened the bedroom door when Ramona knocked. Revilla was taking a bath at the time.
A masked assailant attacked just as Revilla came out of the bathroom, according to police.
Among the motives for the attack was the siblings' squabble over their monthly allowance from the actor, police reported.