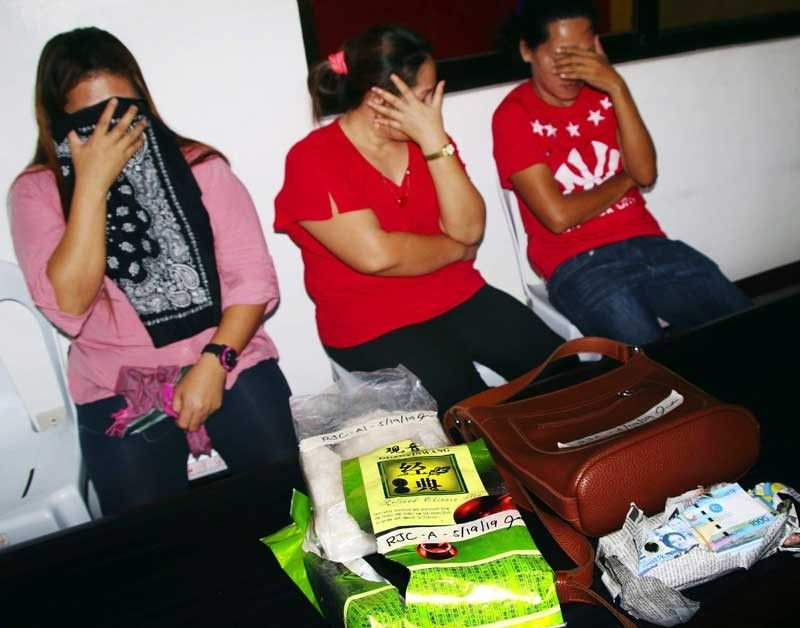 Rosnia Minalang Cauntongan, Junaila Alilang Maruhom and Lina Ahmad Grande are presented during a press conference in the Philippine Drug Enforcement Agency headquarters at Camp Crame yesterday. In front of them are marked money and P4.76 million worth of shabu packed in tea bags.
Boy Santos
3 women arrested with P4.76-million shabu stashed in tea bags
MANILA, Philippines — Three women were arrested in a drug sting in Taguig City on Sunday afternoon.
Philippine Drug Enforcement Agency (PDEA) operatives seized around 700 grams of methamphetamine hydrochloride or shabu with a street value of P4.76 million, stashed in tea bags, from Rosnia Minalang Cauntongan, Junaila Alilang Maruhom and Lina Ahmad Grande at a house on Maisu street in Barangay Maharlika.
PDEA Special Enforcement Service chief Levi Ortiz said they were initially transacting with a certain Stoleen Dimapuro but the three women showed up in her place.
The PDEA official added that the appearance of the tea bags is similar to that of the illegal drugs seized at a warehouse in Alabang, Muntinlupa in March.
Ortiz said they suspect the illegal drugs were smuggled into the country and distributed locally.
'Suitor' held for bribe try
Following the arrest of the three women, Eduardo Navasa Sena, who claimed to be Grande's suitor, was arrested for allegedly trying to bribe PDEA agents to release the suspect.
Sena told operatives he was doing what he could to have Grande released as he has been courting her for over a year.
He initially offered P500,000 but operatives counted P399,000 in front of members of media following his arrest, Ortiz said.
Sena faces charges of corruption of a public official.
3 dead in shootouts
Meanwhile, three drug suspects were killed in police operations in Navotas and Valenzuela over the weekend.
In Navotas, two men identified only as Jeff and Vincent allegedly shot it out with police officers who spotted them with shabu in Barangay Northbay Boulevard North on Sunday night.
Police recovered a Colt .45 pistol, a caliber .38 revolver, ammunition and four sachets of shabu from the suspects.
In Valenzuela, Jessie Cabigas allegedly fired at police officers during a drug sting along Dulong Tangke street in Malinta Saturday night.
The suspect's companion, Alfredo Yumol, escaped.
Police recovered a caliber .38 revolver, ammunition, six sachets of shabu and five sachets of marijuana from the suspect. – With Marc Jayson Cayabyab