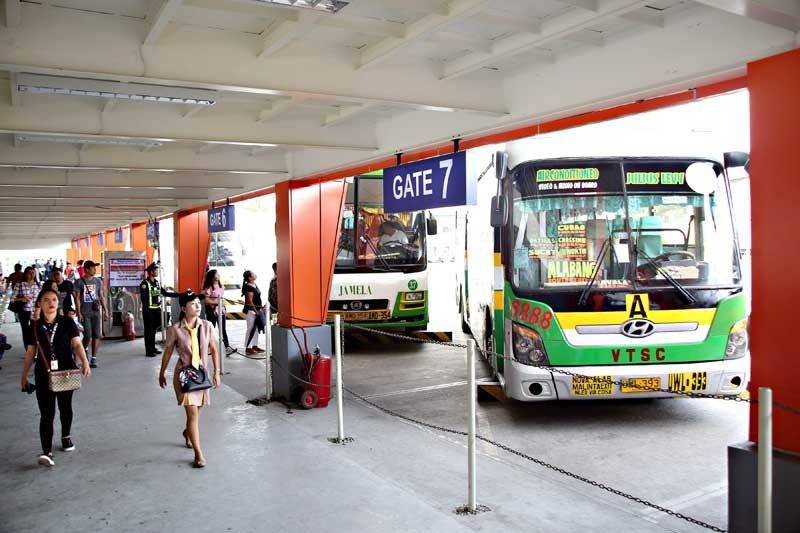 Commuters board city buses at an interim bus terminal in Valenzuela City yesterday.
Michael Varcas
MMDA: EDSA bus terminals closed by June Ghio Ong
(The Philippine Star) - April 23, 2019 - 12:00am
MANILA, Philippines — The Metropolitan Manila Development Authority (MMDA) is eyeing to close provincial bus terminals located along EDSA by June this year, an official said yesterday.
"By June, totally closed down na po lahat," MMDA general manager Jose Arturo Garcia said in an interview with radio station dzMM.
The agency would also send letters to local government units, particularly in Quezon City and Pasay, requesting them to start cancelling the business permits of provincial bus terminals in their areas of jurisdiction, he added.
Garcia also encouraged bus companies to participate in the ongoing dry run of their buses picking up and dropping off passengers at the terminals in Valenzuela City and in Sta. Rosa, Laguna, both of which the agency has selected.
So far, only Victory Liner has joined the dry run by having its buses use the Valenzuela terminal, according to MMDA spokesperson Celine Pialago.
Also yesterday, the agency started enforcing its policy banning provincial buses from dropping off and picking up commuters along EDSA.
Enforcers apprehended 86 bus drivers for illegal loading and unloading, which has a fine of P1,000; and 48 bus drivers for violating a policy mandating that doors be closed while in transit, which has a P500 fine.
Anti-poor
Meanwhile, opposition senatorial bet Lorenzo "Erin" Tañada III said yesterday the MMDA's policy banning provincial buses from loading and unloading passengers on EDSA is "anti-poor and anti-worker."
Tañada, who is part of the Otso Diretso slate, said most bus riders are poor and ordinary workers and the MMDA policy would only increase their daily transportation expenses.
He said data show that provincial buses account for less than 10 percent of the total volume of vehicles plying Metro Manila.
"How impactful will this ban be in the overall traffic picture of Metro Manila? " the former congressman of Quezon province said.
"While they (workers) fail to get their demand for higher wages, their daily spending rises," Tañada said.
MMDA Command Center head Bong Nebrija earlier explained the franchise of provincial buses is "terminal-to-terminal," which bars them from stopping along EDSA and other major roads.
This, however, has not been implemented for the longest period of time, he said.– With Helen Flores