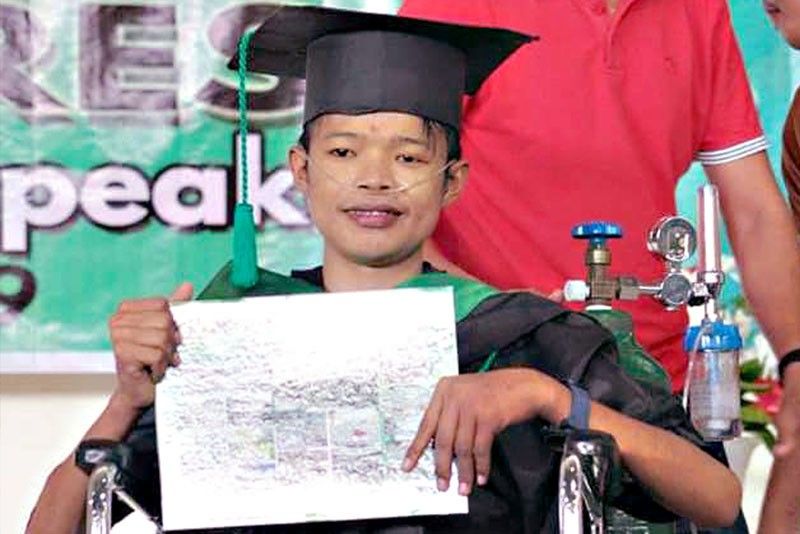 Handout photo shows Joemark Mangkok holding his diploma.
John Unson
Man who graduated from college despite heart ailment passes away
John Unson
(Philstar.com) - March 27, 2019 - 10:14am
TACURONG CITY, Philippines — Joemark Mangkok, whose story went viral over the weekend after attending his college graduation despite having a serious rheumatic heart disease, has died.
Mangkok, whom doctors allowed to attend his graduation ceremony in a wheelchair, was awarded a Bachelor of Secondary Education, major in Mathematics degree at the Southern Mindanao Institute of Technology in the capital of Sultan Kudarat province on Sunday. Photos of him attending the graduation rite despite his condition went viral online.
"Joemark just passed away," his sister, Noraisa, who works in Kuwait, said via online messenger before dawn Wednesday.
Baipulo, an older sister working for a British family in London, said she tried to stop her brother from attending his graduation rite but failed.
"He told me his diploma would be his gift to me for having paid for his monthly tuition," Baipulo said.
READ: Student with heart disease finishes college
Mangkok, born on December 14, 1992, is remembered by classmates as a friendly student whose ambition was to teach in a public school in his hometown, Datu Paglas in Maguindanao province.
He was vocal about being grateful to his sisters for working abroad as domestic helpers for helping pay for his schooling.
Neighbors said Mangkok and his eight siblings were raised by their parents, Tatun and Fatida, using money earned from farming and from doing errands for owners of rice farms in Datu Paglas.
Facebook timelines of Mangkok and his relatives were immediately flooded with "inna lillahi wa inna ilayhi raji'un," Arabic for "We belong to Allah and to Allah is our return," posted by friends after learning he succumbed to his ailment at the St. Louis Hospital on Tuesday evening.