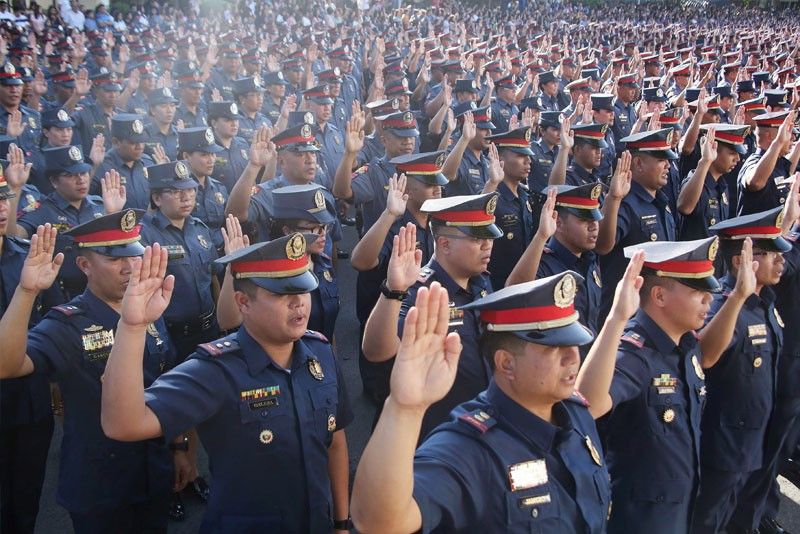 Newly promoted police officers take their oath at the NCRPO headquarters at Camp Bagong Diwa in Taguig yesterday.
Michael Varcas
13,000 NCRPO cops promoted
MANILA, Philippines — At least 13,000 members of the National Capital Region Police Office were promoted but only 180 of them took their oath yesterday at the NCRPO headquarters at Camp Bagong Diwa in Taguig City.
Those who took their oath were 19 police superintendents, 19 chief inspectors, one senior inspector, 27 inspectors, 16 Senior Police Officers 4, 33 SPO3s, 32 SPO2s and 33 SPO1s.
NCRPO chief Director Guillermo Eleazar congratulated the first batch of police officers who were promoted.
He asked them to provide quality service to Metro Manila residents.
"Internal cleansing is not just about ridding the police force of scalawags. It is about creating a culture of pride in the police uniform, self-respect and gaining respect from the community," Eleazar said."These newly promoted police officers are expected to guard their fellow policemen."
Eleazar urged the police officers to help the NCRPO in regaining the trust and confidence of the public.
He said the NCRPO managed to reduce the volume of drugs sold in the streets of Metro Manila with the arrest of suspected drug pushers and users.
"I challenge you to be part of the crusade to make Metro Manila a safer and more peaceful place to live in," Eleazar said.