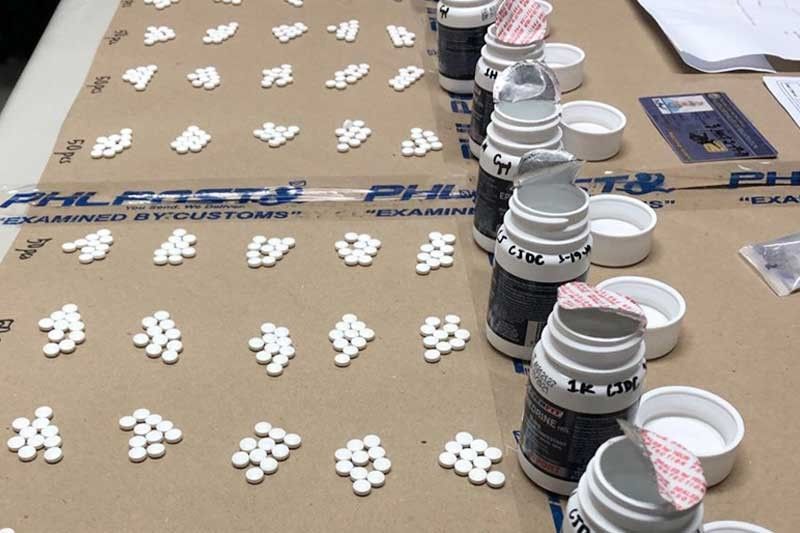 Ephedrine tablets declared as asthma supplements were seized by Customs offi cers at the NAIA's central mail exchange center the other night.
Rudy Santos
Ephedrine parcels from Canada seized
Rudy Santos
(The Philippine Star) - March 21, 2019 - 12:00am
MANILA, Philippines — Personnel of the Bureau of Customs (BOC) seized inbound parcels from Canada at the Ninoy Aquino International Airport (NAIA)'s central mail exchange center and intercepted 650 tablets of ephedrine in 13 bottles declared as asthma supplements last Tuesday night.
NAIA Customs district collector Mimel Talusan said that the parcel from Ontario, Canada contained 13 bottles, each containing 50 tablets of 8mg ephedrine, which the sender declared as asthma supplement.
The BOC and Philippine Drug Enforcement Agency (PDEA) conducted several tests before the 650 tablets were seized on grounds on violation Republic Act 9165 or the Comprehensive Dangerous Drugs Act and RA 10863, the Customs Modernization and Tariff Act.
Talusan said ephedrine, which has a similar chemical structure to amphetamine, is a precursor in the manufacture of methamphetamine hydrochloride or shabu.
Talusan said the claimant was arrested and charges would be filed before the Pasay City prosecutors office.?
Customs NAIA has conducted 35 drug busts from March 2018 to March 2019.
It assured the public that its officers are working 24/7 to prevent smuggling at the country's premier airport.