5 BIFF reported killed in Army bombardment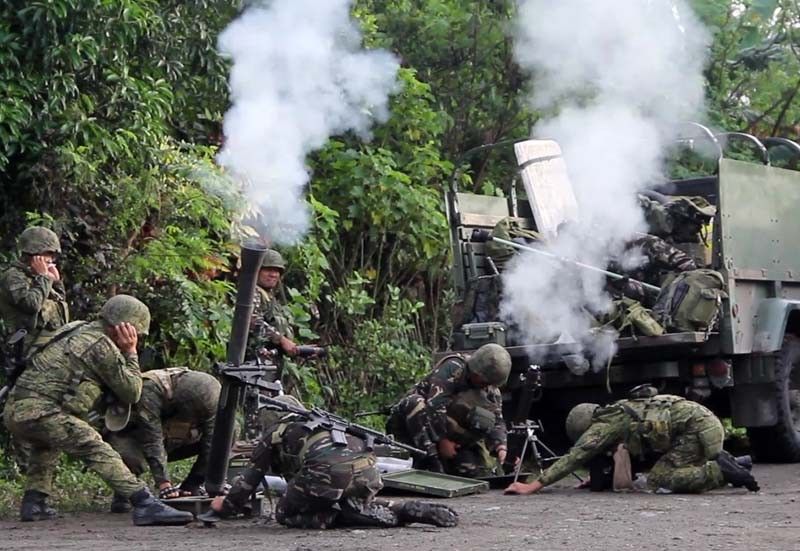 MAGUINDANAO, Philippines — Continuing bombardment of Bangsamoro Islamic Freedom Fighters lairs in swampy areas of Maguindanao have resulted in the deaths of five militants, security forces said.
The air and artillery strikes by the Army's 6th Infantry Division against BIFF bandits in Shariff Saydona Mustapha, Maguindanao began Saturday.
The operation was launched after residents reported to Army units in the province that they saw BIFF gunmen converging in the Pinditen and Inaladan areas in Shariff Saydona, located in the second district of Maguindanao.
Members of the municipal peace and order councils in Shariff Saidona Mustapha and nearby municipalities said five BIFF gunmen, Karim Binua, Munir Masdal, Ganih Lantih, Bukhari Samad and Sanday Musib, all followers of the radical BIFF leader Abu Toraife, were killed aerial sorties the past two days.
Reports reaching the 6th ID and the Police Regional Office-Bangsamoro Autonomous Region in Muslim Mindanao also indicated that a large number of BIFF bandits from the faction led by Imam Karialan fled to Pinditen and Inaladan after the military pounded their hideouts in Salibo town in Maguindanao with mortars last week.
Major Gen. Cirilito Sobejana of the 6th ID told reporters Monday he has been receiving feedback from local officials that five BIFF gunmen were killed in their operations the past two days.
"But the reports being fed to us by people on the ground, among them vigilant barangay residents, indicate that there were indeed BIFF fatalities who were immediately buried by their companions," Sobejana said.
Talk has been spreading since Sunday night that at least four followers of Abu Toraife, among them a relative named Tatak, were injured by an artillery round that landed and exploded near them.
Abu Toraife is leader of one of three factions in the BIFF, the group blamed for recent deadly bombings in central Mindanao.
The BIFF, which uses the flag of the Islamic State of Iraq and Syria, is a separate group from the Moro Islamic Liberation Front, which the government has signed a peace deal with.