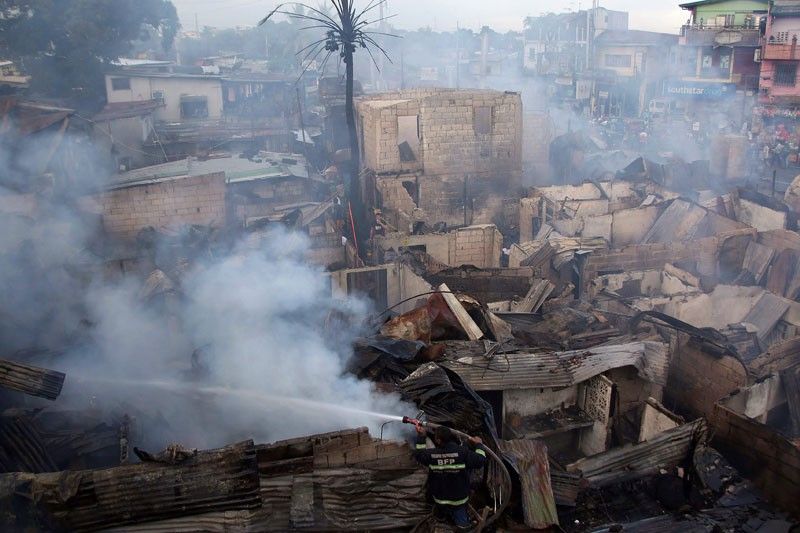 A firefighter works to put out a fire in Barangay Commonwealth, Quezon City yesterday.
Michael Varcas
1 dead, 200 families homeless in Quezon City fires
MANILA, Philippines — A seven-year-old boy died and some 200 families were left homeless in separate fires that hit two residential areas in Quezon City in the past two days.
Letix Jaren Repangcol suffered severe burns after he was trapped in their home in Barangay Commonwealth when the fire started at around 3:55 a.m. yesterday.
Fifty houses along Litex and IBP Roads were destroyed, displacing around 100 families, before the fire was put out by 6 a.m.
City fire marshal Senior Superintendent Jaime Ramirez, quoting arson investigators, said the fire started in the Repangcol family's living room. The cause of the fire is still a subject of an investigation.
The estimated damage to property was placed at P250,000.
Hours earlier, a fire broke out in Barangay Talayan at around 10:20 p.m. and razed around 60 houses, leaving around 100 families homeless.
The blaze started in the kitchen of a two-story house owned by Joel Cambel.
The fire reached third alarm and destroyed around P2 million worth of property before it was put out at around 2 a.m. yesterday.
An investigation is ongoing to determine the cause of the blaze.