Cebu town mayor survives ambush; husband, 2 others slain
January 24, 2019 | 12:00am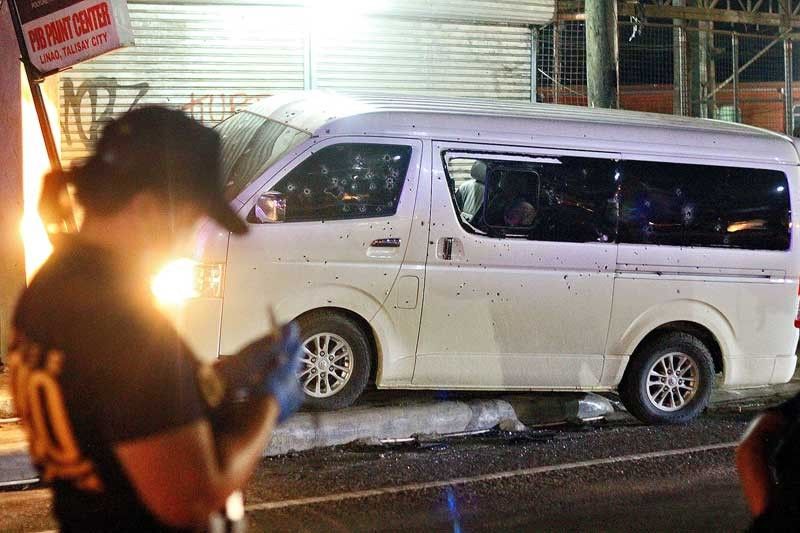 MANILA, Philippines — Mayor Lakambini Reluya of San Fernando, Cebu was wounded in an ambush in Barangay Linao, Talisay City on Tuesday that left three persons, including her husband barangay chairman Ricardo Jr., dead.
Superintendent Marlu Conag, Talisay police chief, identified the two other fatalities as van driver Ricky Monterona and Reluya's staff Allan Bayot.
Jovanie Perez and Tolentin Jefer were wounded.
Initial investigation showed that the victims were in a Toyota Super Grandia on their way to Cebu City when unidentified men in a Toyota Innova opened fire along N. Bacalso Avenue.
Felix Bocog, a member of the police auxiliary force in Talisay, whose vehicle was tailing the van of the victims, said the gunmen were wearing vests and bonnets.
Bocog said the assailants used M16 rifles and fired more shots before they escaped.
Philippine National Police (PNP) chief Director General Oscar Albayalde ordered Conag and Senior Superintendent Manuel Abrugena, Cebu police director, to solve the case in two weeks or face relief.
"They will be automatically relieved. I will put somebody there to investigate it further," Albayalde said during the Kapihan sa Manila Bay news forum yesterday.
He also ordered the Criminal Investigation and Detection Group to help in the investigation.
Politically motivated
Probers are eyeing politics as the possible motive for the killing.
"The mayor believes this is politically motivated so we are looking into that," Albayalde said.
Reluya has yet to identify who could be responsible for the ambush. She is running for reelection in the May polls, with her husband as her runningmate.
The PNP said San Fernando might be included on the poll watchlist in view of the killing.
Albayalde said they might also ask the Commission on Elections to place the town under its control.
"This unfortunate... norm cannot continue and the culture of violence that has characterized the electoral process will have to end," presidential spokesman Salvador Panelo said.
Panelo said Malacañang also prays for the speedy recovery of Reluya.
"The citizenry must be vigilant... it must put to notice law enforcement authorities on any brewing electoral violence between and among the candidates and their followers in their respective localities," he said.
"We warn candidates to cease and desist employment of undemocratic and illegal methods to win... the law on accountability shall be applied to them with full force and effect," Panelo added.
He said the PNP was asked to monitor areas considered as election hotspots and strictly enforce the law. – Gabriel Bonjoc/The Freeman, Emmanuel Tupas, Christina Mendez, Edith Regalado