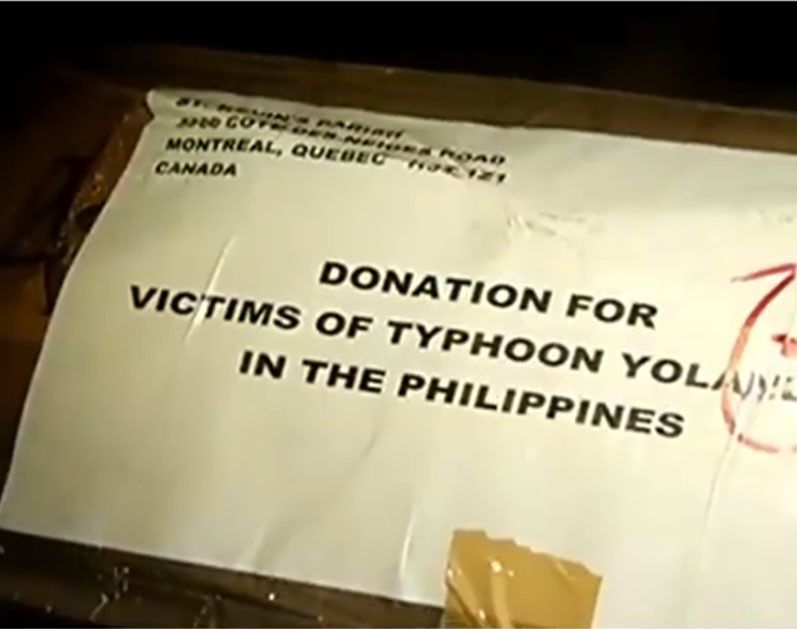 This screenshot from a ONE News report shows a box of donations found in a raid on a warehouse that had illegal imported used clothing.
Screenshot, ONE News
'Yolanda' donations among 'ukay-ukay' clothes seized in Bulacan raid
(Philstar.com) - January 18, 2019 - 11:20am
MANILA, Philippines — Personnel from the Bureau of Customs and the National Bureau of Investigations seized more than 100 boxes of 'ukay-ukay' clothes in a raid in Guiguinto, Bulacan, with many of those meant as donations for Typhoon Yolanda victims.
According to a ONE News report, the raid was on a warehouse that was also an authorized condemnation facility for smuggled and abandoned goods. Most of the clothes were originally intended for surivors of "Yolanda", the typhoon that devastated parts of the Visayas in November 2013.
"It was all seized and forfeited goods from the Port of Subic, this company was authorized to destroy the forfeited and seized contraband, including used clothing and used tires," Alvin Enciso, Bureau of Customs intelligence officer, said in a mix of English and Filipino in the report.
NBI and Customs personnel confiscate over 100 boxes of clothes that were illegally sold as "ukay-ukay" items in Guiguinto, Bulacan. Most of the goods were originally intented for survivors of Typhoon Yolanda. #RushHour https://t.co/uNe5p7bNky

— ONE News PH (@onenewsph) January 18, 2019
It has been illegal to import used clothes since Republic Act 4653, which prohibits it "to safeguard the health of the people and maintain the dignity of the nation." Despite that, "ukay ukay" or shops that sell used clothing from abroad are popular among shoppers on a budget and bargain hunters.
Warehouse manager Francisco Lesaca and warehouse staff will be charged for violating RA 4653.
"As I said, I was going to donate those to the [Department of Social Welfare and Development] but there is no 'go' signal yet... It's still being sorted, we cannot donate ugly items," he said in the ONE News report.
Kristine Dela Cruz, executive officer of the NBI Special Action Unit said there will likely be a deeper investigation into the selling of the donations for typhoon survivors.
"It is saddening that what was supposed to help our fellow Filipinos who need assistance became trash... that did not go to the right people, and was being used for profit," she said.
The DSWD has imposed a moratorium on receiving donations of seized used clothing from the Bureau of Customs because of health concerns.
In 2014, Dinky Soliman, Social Welfare secretary at the time, explained in a GMA News Online report that the DSWD does not accept used clothing, shoes and bedsheets from other countries even as donations. She said that the used clothing could carry bacteria that could make the recipients sick.
"We will investigate everyone involved to see if anyone was working with this company, it seems there are irregularities," Enciso said of the condemned goods that were supposed to have already been destroyed.
It is unclear if the moratorium on donations has been lifted but The FREEMAN reported in October 2018 that the Bureau of Customs in Region 7 donated P7.5 million in seized 'ukay-ukay' clothes to the DSWD for typhoon victims. Earlier that month, donations for 'Yolanda' survivors were burned instead because of the moratorium.