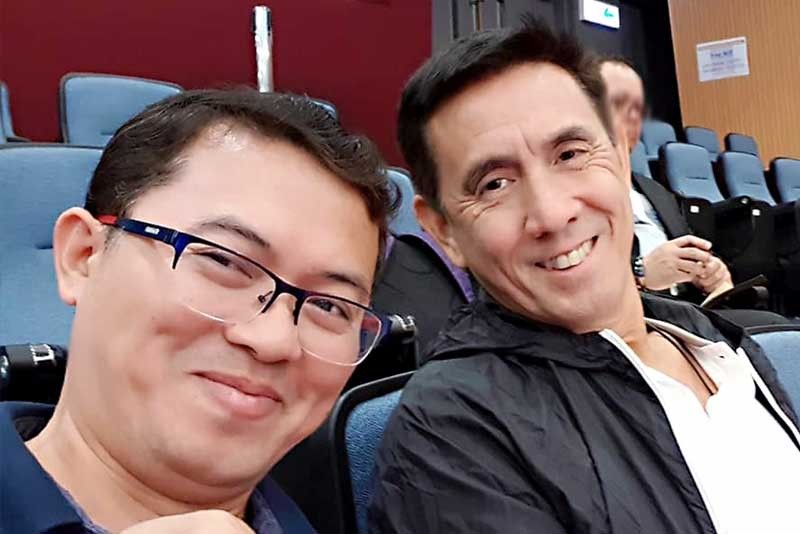 Slain bowling coach Angelo Nathaniel Constantino poses with champion bowler Rafael Nepomuceno in a Nov. 22, 2018 post on the victim's Facebook page.
Bowling champ shot dead in San Juan
MANILA, Philippines — A member of the national bowling team was killed by a lone gunman in San Juan City on Friday.
Senior Superintendent Dindo Reyes, San Juan police chief, identified the victim as Angelo Nathaniel Constantino.
Based on the information they have gathered, the police official said Constantino worked as a bowling coach and won a gold medal in the World Youth Championship in Venezuela in 1992.
The shooting happened at the second floor of the E-Lanes Bowling Center in Barangay Greenhills at around 5 p.m.
Quoting a police report, Reyes said the victim was having snacks at a restobar when an unidentified assailant wearing a face mask approached him.
According to a witness, the gunman posed as a customer and even talked with the cashier.
The assailant pulled out a handgun and shot Constantino once in the head. The victim died while being rushed to a hospital.
"The suspect escaped through the parking area at the basement," Reyes said in a phone interview.
The assailant boarded a yellow scooter driven by a male companion and sped off towards Aurora Boulevard in Quezon City.
The security guard at the basement was not able to catch the assailant during the commotion.
Probers recovered a bullet casing from a .45 caliber pistol at the scene and the firearm at the basement. Reyes said it is possible the handgun is a loose or unregistered firearm as the assailant left it behind.
Police Officer 1 Jerry Paolo Magsipoc said the assailant was seen on closed-circuit television footage throwing away the gun in the basement.
The police official said investigators have yet to establish the motive behind the shooting.
"We have yet to talk with the victim's relatives," he said.