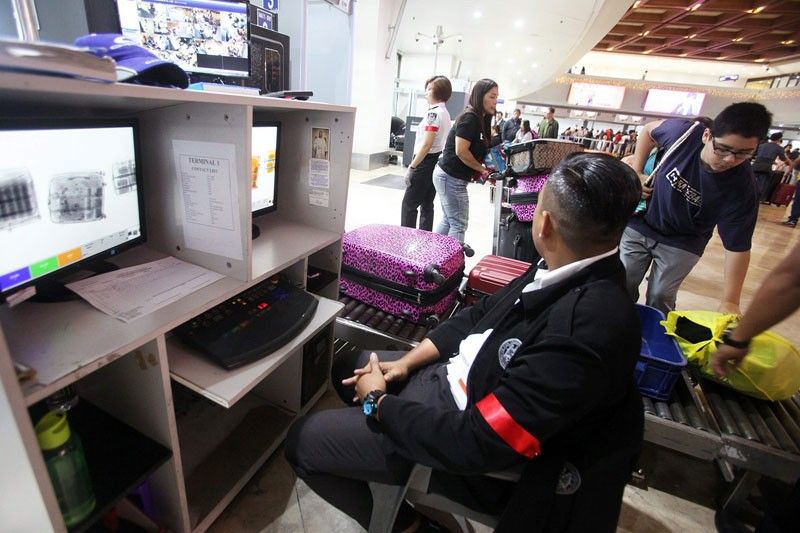 Two Office of Transportation Security personnel wear red armbands as they go about their tasks at the Ninoy Aquino International Airport yesterday.
Rudy Santos
OTS inspectors hold nationwide protest
Rudy Santos
(The Philippine Star) - January 9, 2019 - 12:00am
MANILA, Philippines — Office of Transportation Security personnel manning security checks at airports nationwide yesterday wore red armbands to protest the OTS' failure to provide the benefits due them.
Senior OTS inspector Liza Abacan said they started wearing red armbands at around 8:30 a.m. yesterday to air their grievances over the benefits they never received, such as the annual performance base bonus, annual collective negotiation agreement, leave credit monetization and team building allowance.
She said that in 2016, OTS employees who took part in a team building session were allocated an allowance of P2,000 each but they received only P500.
The OTS also failed to increase the salary of all OTS personnel from salary grade four to salary grade eight, Abacan said.
The OTS management, she added, earlier told its rank-and-file that the Department of Budget and Management refused to allocate funds for the salary standardization of employees.
It was only when they started wearing red armbands that they were told that the salary standardization budget would be released soon.
"So the OTS has the money but did not give us our due," Abacan said.
The OTS budget comes from terminal fees paid by passengers of international and domestic flights. The OTS receives P60 from the P550 terminal fee paid by an international passenger and P15 from the P200 paid by a domestic passenger.
The Manila International Airport Authority (MIAA) remitted terminal fees of P451 million from international passengers and P131 million from domestic passengers from January to November 2018.
The OTS, created by former president and now Speaker Gloria Macapagal-Arroyo through an executive order, is patterned after the United States Transportation Security Agency.
Abacan said Malacañang is set to hear their grievances this morning.