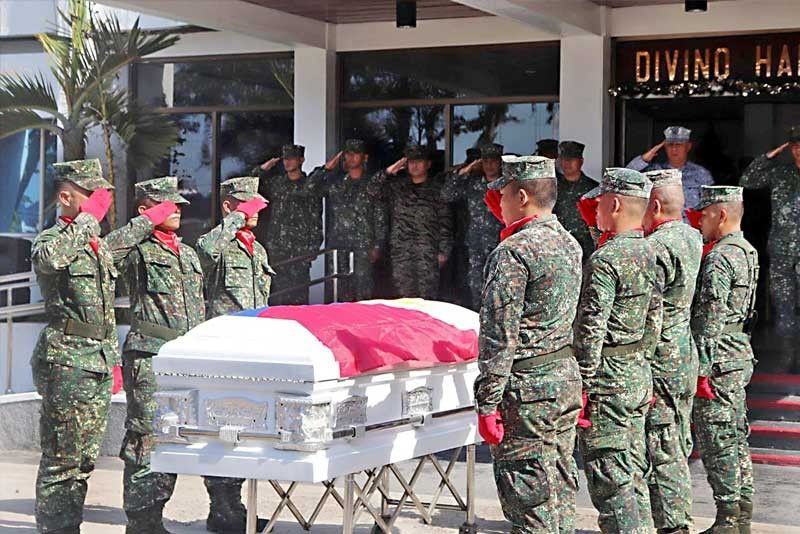 Handout photo from the Naval Forces Western Mindanao shows Marine and Naval officers paying their last respects to a comrade killed in a clash with Abu Sayyaf bandits in Patikul, Sulu on Thursday.
Abu death toll in Sulu clash climbs to 7
Roel Pareño
(The Philippine Star) - December 16, 2018 - 12:00am
ZAMBOANGA CITY, Philippines — Authorities yesterday confirmed that the Abu Sayyaf death toll in a recent encounter in Patikul, Sulu has increased to seven from three as earlier reported.
The clash on Minis Island on Dec. 13 also left a Marine trooper dead and three others wounded.
Ten bandits were captured in a pursuit operation in a mangrove area where the fighting erupted, according to Rear Admiral Rene Medina, commander of the Naval Forces Western Mindanao (NFWM).
Medina said the Navy's BRP Juan Magluyan and BRP Waray were deployed to reinforce the pursing troops and prevent the enemies from escaping.
He attributed the success of the military operation to the cooperation between the military and the local officials as well as the villagers.
Personnel and officers of the NFWM on Friday paid their last respects to Sgt. Randy Cariaso of the 62nd Marine Company, who was killed during the encounter.