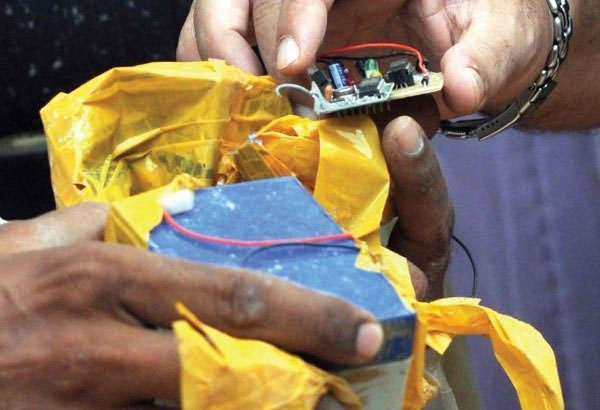 This file photo shows an improvised explosive device that Army ordnance experts disarmed in Maguindanao.
John Unson, file
Army defuses IED in Maguindanao town
John Unson
(Philstar.com) - November 25, 2018 - 10:48am
MAGUINDANAO, Philippines — Army bomb experts promptly deactivated late Saturday a powerful roadside bomb that villagers found in an abandoned hut along a highway in Datu Odin Sinsuat town.
A stretch of the highway was closed to traffic by responding soldiers and police officers for more than an hour until the sides of the road were cleared of secondary IEDs that may have been hidden there.
Local Islamic State-inspired militants are known for their practice of planting two or three more IEDs a short distance from the primary bomb that they detonate when a civilian or military vehicle comes close.
The IED that villagers found along a portion of the Cotabato-Isulan Highway in Daiwan area in Barangay Tanuel, Datu Odin Sinsuat was fashioned from an 81-mm mortar round rigged with a blasting contraption that can be detonated from a distance using a mobile phone.
Chief Superintendent Graciano Mijares of the Police Regional Office-Autonomous Region in Muslim Mindanao said Sunday the Datu Odin Sinsuat municipal police and intelligence agents from the 6th Infantry Division are still trying to identify who were behind the bombing attempt.
Investigators hinted that the outlawed Bangsamoro Islamic Freedom Fighters, which is trying to sabotage the peace process between the government and the Moro Islamic Liberation Front, could be responsible for the botched IED attack.
The BIFF, which uses the Islamic State flag as its banner, has a reputation for avenging losses in encounters with units of 6th ID, which covers Maguindanao , North Cotabato and Sultan Kudarat provinces, on civilians.