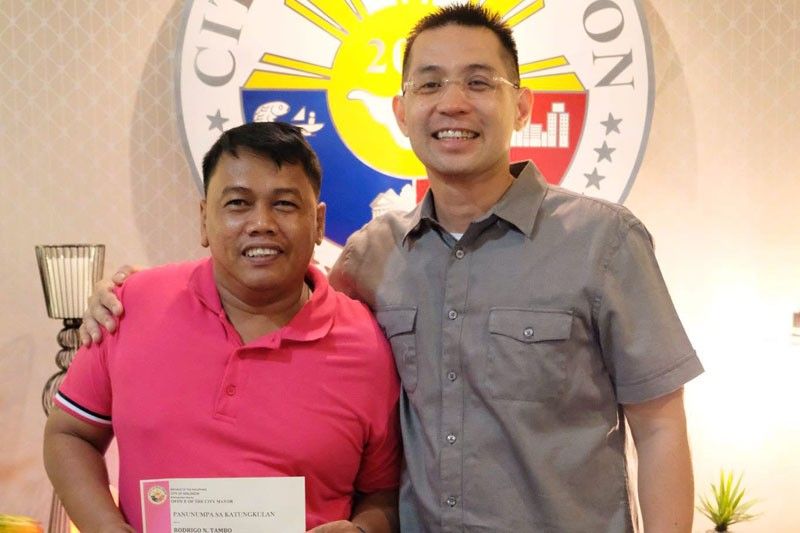 Rodrigo Tambo poses with Mayor Antolin Oreta III after winning a post as councilor of Barangay Catmon in the local elections last May. Image taken from a Facebook post by Roy Gutierrez.
Malabon Mayor Antolin Oreta III's political officer slain
MANILA, Philippines — A barangay kagawad and political officer of Malabon Mayor Antolin Oreta III was gunned down by still unidentified motorcycle-riding assailants yesterday, the latest attack in this city in the runup to the local elections.
Rodrigo Tambo, 40, was talking with a barangay tanod along Dulong Hernandez street at around 6:30 a.m., when two men walked up to him and shot the victim in the chest.
The watchman, who asked that his identity be withheld, ran and hid because one of the assailants chased him, case prober Police Officer 2 Mardelio Osting said.
Tambo's partner told police the barangay councilor did not receive any threats to his life.
The assailants did not wear masks, and were only in shorts and slippers when they shot the kagawad, witnesses told police.
Tambo could not have been involved in illegal drugs because he was asthmatic, witnesses added.
Tambo was a political officer at Barangay Catmon for Oreta, who is seeking a fresh term, according to the mayor's information chief Bong Padua.
On his Facebook account, Tambo posted photos of himself with the barangay captain Brian Manapat and his fellow barangay councilors during the lighting of Catmon Park Monday night, hours before his death.
Manapat said Tambo was a respected peace officer who always kept watch over the barangay's closed-circuit television footage room.
Malabon is a known hotspot for the killings of kagawads in the runup to the elections.
In January 2016, councilor Merlin "Tiger" Mañalac, grandson of the notorious policeman Alfonso "Boyong" Mañalac, was gunned down by unidentified assailants in front of his house. Tiger was an ally of Oreta.
In March 2016, barangay councilors Daniel Villaluna and Bienvenido Reyes Jr., supporters of then mayoral candidate Malabon Rep. Josephine Lacson-Noel, were ambushed by still unidentified assailants while they were in a government ambulance at a gasoline station.
Lacson-Noel said the killing may be linked to politics. A member of a gun-for-hire group was arrested a month after the murders.
Oreta, who won the mayoral post that year, denied any hand in the ambush. He filed charges of libel against a teenager and an elderly househelp for allegedly distributing leaflets tagging him in the killing.
Oreta is a son of former senator Tessie Aquino-Oreta, the aunt of former president Benigno Aquino III.