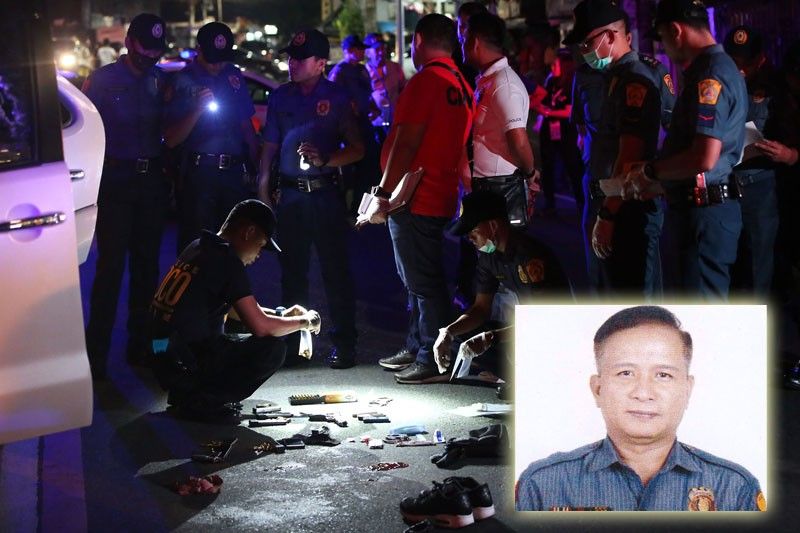 Crime scene investigators check the belongings of Police Officer 3 Rufino Gabis (inset) after the policeman was killed in an ambush along Kalayaan Avenue in Quezon City on Wednesday night.
Miguel de Guzman
'Narco' cop slain in ambush
MANILA, Philippines — A policeman under investigation for alleged links to the illegal drug trade was killed in an ambush as he was driving his sport utility vehicle in Quezon City on Wednesday night.
Police Officer 3 Rufino Gabis, 47, was at a stoplight along Kalayaan Avenue in Barangay Malaya when two men on a motorcycle attacked him at around 8 p.m., probers said.
The backrider got off the motorcycle and fired shots through the driver's side window of Gabis' new Toyota Fortuner. Gabis died at the scene as the assailants sped away.
Gabis was last assigned to the Quezon City Police District (QCPD) Headquarters Support Unit.
Chief Superintendent Joselito Esquivel, QCPD director, said Gabis was "relieved" from his post at the Kamuning police station months ago following "reports of impropriety."
Esquivel added that there is no final report yet on Gabis' alleged drug links.
Recovered inside the victim's car were P300,000 in cash, a Colt 1911 handgun and Colt 80 handgun – bearing the same serial numbers – and 72 bullets of various calibers.
Esquivel said they have yet to determine why Gabis was carrying two guns with the same serial number and that much cash.
P1.2-M kush seized near Manila city hall
Two college dropouts were arrested for carrying 10 kilos of kush and locally produced, high-grade marijuana, with a street value of P1.2 million, during a sting along Arroceros street near the Manila city hall Wednesday night.
National Capital Region Police Office chief Director Guillermo Eleazar yesterday scolded Mhar Vincent Ramos, 22, and Jeff Colorado, 20, at the police station.
The marijuana and kush, slipped inside bags of snacks, were also allegedly sold online, Eleazar said. – With Marc Jayson Cayabyab